Princess Anne
Kidnapping attempt 20th March 1974
As Princess Anne and Mark Phillips were returning to Buckingham Palace on 20 March 1974, from a charity event on Pall Mall, their Princess IV car was forced to stop on the Mall by a Ford Escort. The driver of the Escort, Ian Ball, jumped out and began firing a pistol. 
Inspector James Beaton, Anne's personal police officer, responded by exiting the car in order to shield her and to attempt to disarm Ball. However, Beaton's firearm, a Walther PPK, jammed, and he was shot by the assailant, as was Anne's chauffeur, Alex Callender, when he tried to disarm Ball.
Brian McConnell, a nearby tabloid journalist, also intervened, and was shot in the chest. Ball approached Anne's car and told her that he intended to kidnap her and hold her for ransom, the sum given by varying sources as £2 million or £3 million, which he claimed he intended to give to the National Health Service. Ball told Anne to get out of the car, to which she replied: "Not bloody likely!", and reportedly briefly considered hitting Ball.
Eventually, she exited the other side of the limousine as had her lady-in-waiting, Rowena Brassey. A passing pedestrian, a former boxer named Ron Russell, punched Ball in the back of the head and led Anne away from the scene. At that point, Police Constable Michael Hills happened upon the situation; he too was shot by Ball, but he had already called for police backup. Detective Constable Peter Edmonds, who had been nearby, answered, gave chase, and finally arrested Ball.
Beaton, Hills, Callender, and McConnell were hospitalised, and all recovered from their wounds. For his defence of Princess Anne, Beaton was awarded the George Cross by the Queen, who was visiting Indonesia when the incident occurred; Hills and Russell were awarded the George Medal, and Callender, McConnell, and Edmonds were awarded the Queen's Gallantry Medal.
Anne visited Beaton in hospital and thanked him for his assistance.
In 1984, the princess spoke about the event on Parkinson saying she was 'scrupulously polite' to her would-be kidnapper as she thought it would be 'silly to be too rude at that stage'.
Princess Anne talks on 1974 kidnap attempt
Ball pleaded guilty to attempted murder and kidnapping. He was still detained under the Mental Health Act as of 2019, at Broadmoor Hospital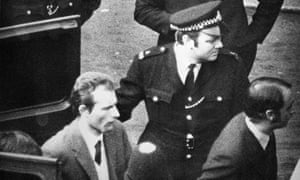 More information on: Ian Ball
Main source : wikipedia.org
Britain's Most Notorious Psychiatric Hospital (Prison Documentary) | Real Stories