Massereene Barracks Shooting
Saturday 9th March 2009
Lest We Forget!
 Saturday 7th March
2009
On 7 March 2009, two off-duty British soldiers of 38 Engineer Regiment were shot dead outside Massereene Barracks in Antrim town, Northern Ireland. Two other soldiers and two civilian delivery men were also shot and wounded during the attack.
An Irish republican paramilitary group, the Real IRA, claimed responsibility.
The shootings were the first British military fatalities in Northern Ireland since 1997. Two days later, the Continuity IRA shot dead a Police Service of Northern Ireland (PSNI) officer; the first Northern Irish police officer to be killed by paramilitaries since 1998. These attacks marked the beginning of the most intensive period of "dissident republican" activity since the start of their campaign.
Background
From the late 1960s until the late 1990s, Northern Ireland underwent a conflict known as the Troubles, in which more than 3,500 people were killed. More than 700 of those killed were British military personnel, deployed as part of Operation Banner. The vast majority of these British military personnel were killed by the Provisional Irish Republican Army (IRA), which waged an armed campaign to force the British to negotiate a withdrawal from Northern Ireland. In 1997 the IRA called a final ceasefire and in 1998 the Good Friday Agreement was signed.
This is widely seen as marking the end of the conflict.
However, breakaway groups opposed to the ceasefire ("dissident Irish republicans") continued a low-leve  armed campaign against the British security forces in Northern Ireland (see Dissident Irish Republican campaign). The main group involved was an IRA splinter group known as the 'Real' IRA. In 2007, the British Army formally ended Operation Banner and greatly reduced its presence in Northern Ireland.
The low-level 'dissident republican' campaign continued. In January 2009, security forces had to defuse a bomb in Castlewellan  and in 2008 three separate incidents saw dissident republicans attempt to kill Police Service of Northern Ireland (PSNI) officers in Derry, Castlederg and Dungannon. In all three cases, PSNI officers were seriously wounded. Two of the attacks involved firearms while the other involved an under-car booby-trap bomb.
Shooting
At about 21:40 on the evening of Saturday of 7 March, four off-duty British soldiers of the Royal Engineers walked outside the barracks to receive a pizza delivery from two delivery men. As the exchange was taking place, two masked gunmen in a nearby car (a green Vauxhall Cavalier) opened fire with Romanian AKM automatic rifles.
The firing lasted for more than 30 seconds with more than 60 shots being fired. After the initial burst of gunfire, the gunmen walked over to the wounded soldiers lying on the ground and fired again at close range, killing two of them.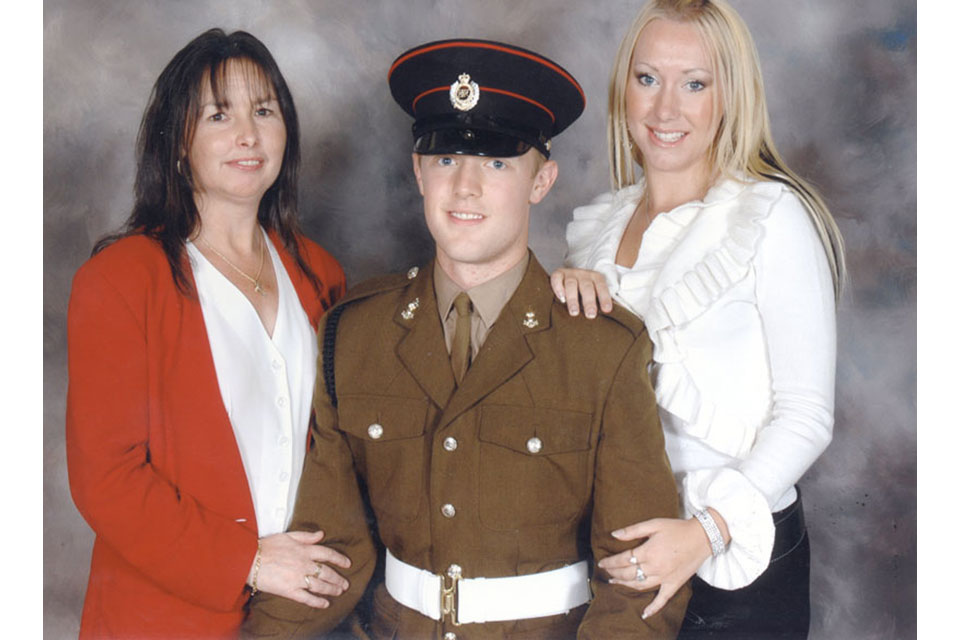 Sapper Mark Quinsey with his mother Pamela and sister Jaime 
Sapper Patrick Azimkar

Sapper Azimkar was 21 and came from London. He joined the Royal Engineers in 2005 and completed his basic recruit training and combat engineer course before attending artisan training as a carpenter and joiner.

He was posted to 38 Engineer Regiment in Ripon, North Yorkshire, in 2007. In January 2008 he completed a construction task in Northern Ireland and then deployed to Kenya in support of the infantry unit with whom he was due to work in Afghanistan. Following his return he participated in the regimental move to a new permanent base in Northern Ireland.

Fiercely competitive, both as an individual and team player, Sapper Azimkar was a very talented footballer. He had represented his squadron and the regiment and, as a younger man, had trials with Tottenham Hotspur.

Sapper Azimkar was a jovial, courteous and fun-loving soldier whose easygoing character found favour with all ranks. Hugely enthusiastic about the regiment's deployment to southern Helmand, Sapper Azimkar was looking forward to facing the challenges of his first operational tour and the potential of JNCO (Junior Non-Commissioned Officer) training thereafter.

Sapper Patrick Azimkar's family issued the following statement:

Patrick was a great character and a good sport who never said anything bad about anyone. Decisive, generous, proud and dignified he really enjoyed army life. He particularly enjoyed living in Belfast and he talked of settling there with his girlfriend after his return from Afghanistan – a mission which he was within just two hours of leaving for.

Sapper Azimkar's parents said:

We are completely devastated by the loss of our beautiful son Patrick. There are no words to describe what this senseless killing has done to our family in taking from us our beloved son and brother at just 21 years old.
Patrick was generous, loyal and tenacious. He brought great fun into our lives and we will miss him forever.
We are thankful for the messages of support we have received from the people of Northern Ireland.
We join with them in our sincere hope for a return to lasting peace.

Brother James said he was courageous, strong and a loyal and true friend.

The family ask that the media respect their wishes to be left to grieve in private.
See: here for more information on:  Sapper Patrick Azimkar
Those killed were Sappers Mark Quinsey from Birmingham and Patrick Azimkar from London. The other two soldiers and two deliverymen were wounded. The soldiers were wearing desert fatigues and were to be deployed to Afghanistan the next day.
A few hours later, the car involved was found abandoned near Randalstown, eight miles from the barracks.
Sapper Patrick Azimkar
Sapper Mark Quinsey

Sapper Quinsey was born in Birmingham in 1985 and joined the Army when he was 19. Following his basic training he attended the combat engineer course at Minley before qualifying as an electrician at the Royal School of Military Engineering in Chatham. He served with 38 Engineer Regiment in both Ripon and Northern Ireland and deployed on a number of training exercises throughout the UK. Most recently he attended the intensive class 1 electricians' course, which he completed with flying colours in 2008.

Sapper Quinsey was a charismatic and affable young soldier. Eager to put his recently gained trade knowledge to use, Sapper Quinsey was looking forward to the operational challenges that Afghanistan would offer. At only 23 he had already emerged as a mature, reliable and hugely capable young soldier with vast future potential.

Lieutenant Colonel Roger Lewis, Commanding Officer 38 Engineer Regiment, said:

Sapper Quinsey was an outwardly calm, resolute and motivated young soldier. A social live wire and hugely popular across the regiment, he was rarely away from the centre of the action.

Professionally his approach reflected his infectious enthusiasm for life. As one of the few soldiers within my regiment to have completed the demanding class 1 electricians' course his trade skills were invaluable. He was hugely passionate about his trade and eager to put his new qualifications to good use in Afghanistan. We were expecting him to play a vital role maintaining the living and working conditions of British soldiers serving in southern Afghanistan. Tragically he has been denied this opportunity.

This has been a traumatic time and the regiment and I are devastated to have lost such a fine and promising soldier. It is with greatest sympathy that I extend my sincere and heartfelt condolences to Mark's family and friends for their irreplaceable loss.

Major Darren Woods, Officer Commanding 25 Field Squadron, said:

The death of Sapper Quinsey has dealt a heavy blow to the squadron, many of whom have already deployed to Afghanistan. To lose such a charismatic young soldier in the prime of his life has been a tragedy of immeasurable magnitude.

I have known Sapper Quinsey for almost two years and in that time have never found him without a positive word or the ability to make light of any situation. His wide circle of friends pays testimony to his popularity. As a soldier he was committed to achieving the best he could in all areas. In particular he was an accomplished tradesman who new that his work could and would make a difference to the daily lives of his friends and comrades on operations. This was always Mark's motivation.

My last and perhaps abiding memory of Sapper Quinsey will be him helping the second-in-command work late to complete the final deployment preparations to send the squadron on operations. It was neither Mark's role nor responsibility, but he did it and did it well. That was his way; no complaints, just get it done. He will be sorely missed.

Our thoughts and deepest sympathies are now with Mark's family throughout this period and into what will undoubtedly be a difficult time ahead.

Lieutenant Chris Smith, 2 Troop Commander 25 Field Squadron, said:

Sapper Quinsey was a humorous and willing soldier. He had a dry sense of humour and a thick brummie accent making him stand out from the crowd. Unfortunately, I did not have the chance to get to know him as well as I would have hoped as he had recently returned to the troop having completed his electricians' training.

He instantly threw himself back into troop life, both socially and professionally; keen to learn all the skills he needed for our deployment to Afghanistan this summer. In the short time I knew him I enjoyed working with him immensely; he was impossible not to like. I, and the Troop, send our sincere condolences to Sapper Quinsey's family in Birmingham.

Warrant Officer Class 2 (Squadron Sergeant Major) Paul Dixon said:

If you ever needed a steady hand to crew the ship Mark was your man. He could and would turn his hand to most things. Yet, at the end of the working day, he would always be at the front, immaculate appearance, ready to party and charm the ladies with a bit of his brummie banter.

Sapper Sean Pocock, 2 Troop, 25 Field Squadron, said:

The thing is, he wasn't just my friend in the Army, he was a friend from back home in Birmingham. It's hard to believe he won't be around anymore. He will be sorely missed by me and his comrades around him, within our troop especially.

Sapper Andrew Sharples, 2 Troop, 25 Field Squadron, said:

Mark Quinsey was a good friend of mine, I used to share a room with him back at camp and used to weight-train with him now and again. I can't believe this has happened. My deepest sorrows go out to Mark's family, he will be greatly missed by all in the Troop and Squadron.

Brigadier Tim Radford, Commander of 19 Light Brigade, said:

My thoughts and condolences go to all the families who have suffered such dreadful losses and to those who have been injured in this appalling incident.

The two young Royal Engineers from 19 Light Brigade, although based in Northern Ireland, were about to deploy to Afghanistan for 6 months as part of Task Force Helmand. These brave and dedicated men typify the professional and selfless nature of the Armed Forces. We will cherish their memory.

General Sir Richard Dannatt, Chief of the General Staff, said:
See here for more information on Sapper Mark Quinsey
A Dublin-based newspaper, the Sunday Tribune, received a phone call from a caller using a recognised Real IRA codeword. The caller claimed responsibility for the attack on behalf of the Real IRA, adding that the civilian pizza deliverymen were legitimate targets as they were:
"collaborating with the British by servicing them".
The shootings were the first British military fatalities in Northern Ireland since Lance Bombardier Stephen Restorick was shot dead by the Provisional IRA in February 1997, during the Troubles. The attack came days after a suggestion by Northern Ireland's police chief, Sir Hugh Orde, that the likelihood of a "terrorist" attack in Northern Ireland was at its highest level for several years.
Civilian Security Officers belonging to the Northern Ireland Security Guard Service were criticised for not opening fire during the incident, as a result of which plans were made to retrain and rearm them.
The barracks were shut down in 2010 as part of the reduction of the British Army presence in Northern Ireland.
Craigavon shooting
Two days after the Massereene Barracks shooting, PSNI officer Stephen Carroll was shot dead in Craigavon, County Armagh. This was the first killing of a police officer in Northern Ireland since 1998.The Continuity IRA claimed responsibility for this shooting and stated that
"As long as there is British involvement in Ireland, these attacks will continue".
Reaction
The morning after the attack, worshippers came out of St Comgall's Church after mass and kept vigil near the barracks. They were joined by their priest and clerics from the town's other churches. On 11 March 2009, thousands of people attended silent protests against the killings at several venues in Northern Ireland.
The killings were condemned by all mainstream political parties in Northern Ireland, as well as the Irish government, the United States government and Pope Benedict XVI. Sinn Féin condemned the killings, but was criticised for being less vehement than others in its condemnation.
The coffin of Sapper Patrick Azimkar is taken from Guards Chapel after his funeral
Trials
On 14 March 2009, the PSNI arrested three men in connection with the killings, one of whom was former IRA prisoner Colin Duffy. He had broken away from mainstream republicanism and criticised Sinn Féin's decision to back the new PSNI.
On 25 March 2009, after a judicial review of their detention, all the men were ordered to be released by the Belfast High Court, however, Duffy was immediately re-arrested on suspicion of murder. On 26 March 2009, Duffy was formally charged with the murder of the two soldiers and the attempted murder of five other people. The following day he appeared in court for indictment and was remanded in custody to await trial after it was alleged that his full DNA profile was found on a latex glove inside the vehicle used by the gunmen.
Brian Shivers, a cystic fibrosis sufferer, was charged with the soldiers' murders and the attempted murder of six other people. He was also charged with possession of firearms and ammunition with intent to endanger life. He was arrested in Magherafelt in July 2009.
In January 2012 Shivers was convicted of the soldiers' murders, but Duffy was acquitted. In January 2013, Shivers's conviction was overturned by Northern Ireland's highest appeals court. A May 2013 retrial found Shivers not guilty. He was cleared of all charges and immediately released from jail. The judge questioned why the Real IRA would choose Shivers as the gunman, with his cystic fibrosis and his engagement to a Protestant woman.
Shivers's solicitor stated:
Brian Shivers has suffered the horror of having been wrongfully convicted in what now must be described as a miscarriage of justice. He was convicted of the most serious charges on the criminal calendar. He was sentenced to a life term imprisonment, which would have seen him die in prison.

The original conviction was overturned on a narrow legal basis. It was only during his re-trial that important new material was disclosed which completely undermined the case against him. This failed prosecution – another failed prosecution – is a cautionary tale against the reliance upon tenuous scientific evidence in high profile criminal cases.

Jaime Quinsey, sister of Mark Quinsey, with James Azimkar, brother of Patrick Azimkar
Mum's tribute to Massereene murder victim sapper Patrick Azimkar
Geraldine Ferguson
The mother of a young soldier who was gunned down by dissident republicans will today make an emotional return to the spot where he was murdered.
Geraldine Ferguson, whose son, Sapper Patrick Azimkar (21) was killed outside Massereene Barracks on March 7, 2009, along with his colleague Sapper Mark Quinsey (23), will mark the eighth anniversary of her son's death with a floral tribute.
The anniversary comes days after she spoke of the loss of her son at a seminar in Co Fermanagh, attended by other victims of paramilitary violence.
Today, Mrs Ferguson will make the heartbreaking journey to Antrim, to the spot where Patrick was killed.
"We will lay some flowers and then go to the memorial that Antrim council erected for Patrick and Mark," she said.
"We will try and get through the day, but it is very difficult.
"The main feeling I will have is being absolutely broken-hearted.
"We said goodbye to Patrick a few weeks after his 21st birthday and we never saw him again. We feel very sad and upset and very churned up because it's exactly where he fell and it's a terrible waste of good, young lives. The futility of it, the pointlessness and senselessness of it."
Mrs Ferguson explained that as the years go on, her emotions are not as raw but admits she finds it hard to describe the pain of losing her son.
"The horror and heartache is too deep for words," she said.
"A very common experience when you lose a child is that the days that were once the best days suddenly become the worst days, including birthdays, Christmas, Easter and Mother's Day. They are supposed to be family days but he's not there any more.
"Our loss is most acute on those days. We always put a little candle where Patrick would have sat. It's painful."
Three people were arrested over the murders of Mr Azimkar and his colleague Mr Quinsey, whose grief-stricken mother Pamela Brankin died in 2013 aged 51.
See Belfast Telegraph for full story
See Deaths in the Troubles 7th March
See also
See: Operation Banner