Rock & Pop Star Suicides
Suicide

is the act of intentionally ending your life
At first glance they appear to have the world at their feet and millions around the globe envy their wealth and lifestyle and long to emulate them.
And yet many rich, famous and supposedly successful people suffer from low esteem and the demons of depression stalk their daily lives and leaves them feeling empty and full of despair .
Sadly some can see no way out of this cycle of all consuming sadness and they choose to take the ultimate solution to end their misery and take their own lives.
The most commonly used method of suicide varies between countries and is partly related to the availability of effective means. Common methods include: hanging, pesticide poisoning, and firearms.
Suicide resulted in 842,000 deaths worldwide in 2013 – up from 712,000 deaths in 1990
Depression
Major depressive disorder (MDD), often simply called depression, is a mental disorder characterized by a pervasive and persistent low mood that is accompanied by low self-esteem and by a loss of interest or pleasure in normally enjoyable activities.
The term "depression" is used in a number of different ways. It is often used to mean this syndrome but may refer to other mood disorders or simply to a low mood. Major depressive disorder is a disabling condition that adversely affects a person's family, work or school life, sleeping and eating habits, and general health.
In the United States, around 3.4% of people with major depression die by suicide, and up to 60% of people who die by suicide had depression or another mood disorder.
Like many reading this I have first hand experience of depression and I spent much of my 20's and 30's drifting in and out of periods of varying degrees of depression , but popping "happy pills" and having counselling seemed to work for me and I came out the other end largely in one piece.
For me the root of much of my sadness and depression was due to the fact that my beloved father John Chambers died tragically young (39) and as a nine year old boy this hit me like a sledge hammer and has haunted me throughout my life and I have never fully recovered from his death and I never will.
My mother was also absent from my life , presumed dead and as a child growing up in the mean streets of Loyalist West Belfast I considered myself an orphan and cursing the gods and a wicked fate for the misery of my young life – I struggled to find happiness for much of my childhood.
As I grew older I became more aware of the situation in Northern Ireland and like those around me I watched in horror the sectarian slaughter that engulfed and surrounded us and needless to say that this also had an effect on my already delicate state of mind and eventually depression found me and abused me for much of my teenage and young adult life.
If you would like to read more of my story see home page
At times I did have suicidal thoughts and twice I tried halfheartedly to end it all , but deep down I knew this was a cry for help and not the solution for me. I have always thought suicide a selfish act and I could never have put my family through a lifetime of the grief and guilt associated with suicide. Although I understand the utter despair that drives someone to take their own lives and the mental state that drives all reason from our normal, rational thought process.
A very close and dear friend of mine committing suicide and I had planned to include her story here – But to be honest I have found researching and putting this post together depressing enough and therefore I have left it out for now. But when I'm in a happier place I will update this post and tell her story.
The List
——————————–
——————————–
This is a list of 25 rock/pop stars who have committed suicide and sadly ended their lives too soon , leaving millions worldwide mourning their passing and their nearest and dearest a lifetime of grief and pain and forever asking WHY?
There are a few "superstars" on this list and others who may not have been household names , but none the less had substantial fan base's and brought joy to many. There are a few that died as a result of drugs or "accidental deaths" and although we will never know if they intended to take their own lives , the coroners have listed their deaths as suicide.
If you are suffering from depression and are feeling suicidal there is help out there. See details at end of article.
Suicide

is the act of intentionally ending your life.
The deaths appear in alphabetical order
---
Biography
MacKenzie was born and grew up in Dundee. As a youngster, he lived in Park Avenue in the Stobswell area and attended St Mary's Forebank Primary School and St Michael's Secondary School. He led a peripatetic lifestyle, decamping to New Zealand at the age of 16, and travelling across America aged 17.
Here he married Chloe Dummar, the sister-in-law of his Aunt Veronica. While MacKenzie was quoted as saying the marriage was made to stave off deportation so that he could sing with the New Orleans Gospel Choir – calling his wife a 'Dolly Parton type' – Dummar still believes the pair were in love.
He left her after three months of marriage and returned to Dundee, and the two never had contact again. Chloe Dummar filed for divorce in 1980, and MacKenzie did not contest the filing. Chloe's brother, Melvin Dummar, claimed to be the "one sixteenth" beneficiary of the estate of Howard Hughes, until the case was thrown out in 1978.
He returned to Scotland where he met Alan Rankine and in 1976 formed the Ascorbic Ones. They changed the name to Mental Torture and finally Associates in 1979. Rankine left Associates in 1982, but MacKenzie continued to work under the name for several years until he began releasing material under his own name in the 1990s. Mackenzie also collaborated with many other artists during his career. In 1987, he wrote lyrics for two tracks on Yello's album One Second: "Moon on Ice", which he sang himself, and "The Rhythm Divine", which was sung by Shirley Bassey and was released as a single.
A version sung by MacKenzie was released on the tape and CD versions of Associates' Popera compilation). MacKenzie also collaborated with B.E.F. (British Electric Foundation) for their two albums Music of Quality and Distinction Volume I (1982) & Volume II (1991).
Morrissey of The Smiths was said by Craig Gannon of The Smiths to have written the song "William, It Was Really Nothing" about Mackenzie, after a brief friendship together.
On 22 January 1997, depression and the death of his mother are believed to have contributed to Mackenzie's suicide.
He overdosed on a combination of paracetamol and prescription medication in the garden shed of his father's house in Auchterhouse. He was 39 years old. He is now a significant cult figure, with much of his musical legacy having been released in the past few year
See Here for more information on Billy Mackenzie
Billy Mackenzie final resting place
Balgay Cemetery
Also known as: Dundee (Balgay) Cemetery
———————————-
Wild Is The Wind – Billy MacKenzie
---
————————————-
Biography
Robert Lawrence "Bob" Welch, Jr. (August 31, 1945 – June 7, 2012) was an American musician. A former member of Fleetwood Mac, Welch had a successful solo career in the late 1970s. His singles included "Hot Love, Cold World," "Ebony Eyes," "Precious Love," and his signature song, "Sentimental Lady."
Fleetwood Mac
Bob Welch struggled with a variety of marginal bands until 1971, when he was invited to join Fleetwood Mac, then an erstwhile British blues band that had lost two of its three front-line members, Peter Green and Jeremy Spencer, within a few months. Along with fellow newcomer Christine McVie, a keyboardist/singer-songwriter (formerly of the British blues band Chicken Shack, and newly married to Fleetwood Mac founding bassist John McVie), Welch helped to steer the band in a more melodic direction, particularly after lead guitarist/singer-songwriter Danny Kirwan left the band in 1972.
In the summer of 1971, the remaining members of Fleetwood Mac held auditions at their retreat in England, Kiln House, while seeking a guitarist to replace Spencer. Judy Wong, a friend of the band who served at times as their secretary (the Kirwan-written song "Jewel-Eyed Judy" was dedicated to her), recommended her high school friend Welch to the band. Welch (who has been described as Wong's high school boyfriend) was living in Paris at the time.
The band had a few meetings with Welch and decided to hire him without actually playing with him or listening to any of his recordings. Welch was given the role of rhythm guitar, backing up lead guitarist Danny Kirwan. It was felt that having an American in the band might extend Fleetwood Mac's appeal in the States. Welch eventually went to live in the band's communal home, a mansion called Benifold, which was located in Hampshire. (Using mobile equipment borrowed from The Rolling Stones, the band recorded three albums at Benifold: Bare Trees, Penguin and Mystery to Me.)
The band's first album to feature Welch and McVie, Future Games, was recorded, however, at Advision Studios in London (as is cited on the back of the album jacket) and Bare Trees was recorded at De Lane Lea Studios in Wembley.
In September 1971, the band released Future Games, with the title song written by Welch. This album was different from anything the band had done up to that point. In 1972, six months after the release of Future Games, the band released Bare Trees, which featured Welch's song "Sentimental Lady". The song went on to become a much bigger hit for him five years later when he re-recorded it for his solo album French Kiss. Christine McVie also sang on the remake, and was a producer of the song.
On June 7, 2012, at the age of 66, Welch ended his own life in his Nashville home at around 12:15 p.m. He was found by his wife, Wendy, with a self-inflicted gunshot wound to the chest; a nine-page suicide note and love letter had been written to his wife. According to her, Welch had had spinal surgery three months earlier, but doctors told him he would not get better. He was in serious pain and he did not want his wife to have to care for an invalid. Also, she believes that the pain medication pregabalin (Lyrica), which he had been on for six weeks, may have contributed to his death.
See here for more details on Bob Welsh
——————————–
Bob Welch Fleetwood Mac Miles Away
---
Bradley Edward "Brad" Delp (June 12, 1951 – March 9, 2007) was an American musician, best known as the lead vocalist of the rock bands Boston and RTZ.
Delp was born in Peabody, Massachusetts on June 12, 1951 to French-Canadian immigrants, and raised in Danvers, Massachusetts
Music career
In 1969, guitarist Barry Goudreau introduced Delp to Tom Scholz, who was looking for a singer to complete some demo recordings. Eventually Scholz formed the short-lived band Mother's Milk (1973–74), including Delp and Goudreau. After producing a demo, Epic Records eventually signed the act. Mother's Milk was renamed Boston, and the eponymous debut album (recorded in 1975, although many tracks had been written years before) was released in August 1976. Delp performed all of the lead and backing vocals, including all layered vocal overdubs.
Boston's debut has sold more than 20 million copies, and produced rock standards such as "More Than a Feeling", "Foreplay/Long Time" and "Peace of Mind". Delp co-wrote "Smokin'" along with Scholz, and wrote the album's closing track, "Let Me Take You Home Tonight".
Their next album, Don't Look Back, was released two years later in August 1978. Its release spawned new hits such as the title track, "Party" (a sequel of sorts to "Smokin'"), and the poignant ballad "A Man I'll Never Be". As they did with "Smokin'", Delp and Scholz again collaborated on "Party", and Delp penned "Used To Bad News".
After the first two Boston albums, Delp sang vocals on Barry Goudreau's self-titled solo album, released in 1980. Scholz's legendary perfectionism and a legal battle with their record company stalled any further Boston albums until 1986, when the band released the appropriately titled Third Stage. Delp co-wrote the songs "Cool the Engines" and "Can'tcha Say / Still in Love" for the album, and both songs got significant airplay.
Though well known for his "golden" voice with soaring vocals and range, Delp was also a multi-instrumentalist, playing guitar, harmonica and keyboards. He wrote or co-wrote songs for Boston, RTZ, Orion the Hunter, Lisa Guyer, and other artists.
In 1991 Delp and Goudreau formed a new band called RTZ. After Boston released the album "Walk On" in 1994 with Fran Cosmo on vocals, Delp and Boston eventually reunited later that year for another major tour and Delp continued to record vocals on several albums and projects, including new tracks for Boston's 1997 Greatest Hits compilation and their 2002 release, Corporate America.
From the mid-1990s until his death in 2007, Delp also played in a side project when he had time off from Boston – a Beatles tribute band called Beatlejuice. The Beatles had always been a personal favorite of Delp, and he revered them for their songwriting.
During this time Delp also co-wrote and recorded with former Boston bandmate Barry Goudreau and in 2003 released the CD Delp and Goudreau.
Delp committed suicide sometime between 11:00 pm on March 8 and 1:20 pm on March 9, 2007. The local police discovered his body after a 911 call from Pamela Sullivan when she saw a dryer vent tube connected to the exhaust pipe of Delp's yellow car. They found him lying on a pillow on his master bathroom floor of his home on Academy Avenue in Atkinson, New Hampshire. Two charcoal grills were found to have been lit inside the bathtub causing the room to fill with smoke.
A suicide note was paper-clipped to the neck of his T-shirt, which read:
"Mr. Brad Delp. 'J'ai une âme solitaire'. I am a lonely soul."
Delp left four sealed envelopes in his office addressed to his children, his former wife Micki, his fiancee, and another unnamed couple.
He was 55 years old.
The official cause of death was listed as suicide by carbon monoxide poisoning
The following day, Boston's website was temporarily shut down, the webmaster having replaced their home page with a simple black background and white text message:
"We've just lost the nicest guy in rock and roll."
On March 19, 2008, Barry Goudreau released one final song with Delp on vocals titled "Rockin Away". Written and recorded in the summer of 2006, co-written with Goudreau, it is an autobiography of Delp's musical career. The song was a hit in early 2008, charting up to No. 18 on the United States of America's Music ranking of rock radio airplay.
On what would have been Delp's 61st birthday, June 12, 2012, Jenna Delp, Delp's daughter and President of the Brad Delp Foundation, released an MP3 on the foundation website of a "never before released" song which was written and recorded by Delp in 1973. It was also announced that the Foundation intended to release a complete CD of Brad's solo work at some point in the future, which would encompass a span of 30 years of previously unreleased material written and recorded by Delp and his closest friends.
On November 25, 2015, The Supreme Judicial Court of Massachusetts found in favor of the Boston Herald and Micki Delp in a defamation lawsuit stemming from the 2007 suicide of the lead singer ( Brad Delp ) of the rock band "Boston."
On February 23, 2016, Tom Scholz, producer, primary songwriter and lead musician for Boston, filed a writ of certiorari asking the Supreme Court of the United States to allow his defamation lawsuit against the Boston Herald and Micki Delp to go ahead. In question is if the Herald's statement that the hard feelings coming from the breakup of Boston contributing to Delp's suicide are opinion rather than fact, and thus the basis for a defamation suit.
See here for more details on Brad Delp
E-mails reveal tension between band members
——————————–
Brad Delp last interview 3-7-07
---
Christopher John Dyke Acland (7 September 1966 – 17 October 1996) was an English musician. He was the drummer of the London-based shoegazing and Britpop band Lush.
Early life
Acland was born in Lancaster Infirmary. He was the son of Oliver Geoffrey Dyke Acland and Judith Veronica Williams, and the great-grandson of Sir Francis Dyke Acland, the 14th Baronet Acland
Career
He played in a number of bands, including The Infection, Les Turds, A Touch of Hysteria and Panic, before founding Lush in 1988 with Steve Rippon, Emma Anderson, Meriel Barham and Miki Berenyi. After personnel changes gave way to a stable lineup, Lush released their debut mini album, Scar, and developed a following as a live act. They would go on to release three albums and several singles and EPs and achieve critical success.
Acland was a fan of football and a supporter of Tottenham Hotspur F.C.
On 17 October 1996, after Lush had completed their tour and music festival appearances, and two days after Anderson announced a desire to quit the band, Acland hanged himself in his parents' house in Burneside, Cumbria.
His bandmates in Lush were devastated and disbanded after a period of mourning.
——————————-
Lush Miki Berenyi And Chris Acland Intreview
---
Darby Crash (formerly Bobby Pyn; born Jan Paul Beahm) (September 26, 1958 – December 7, 1980) was an American punk rock vocalist and songwriter who, along with long-time friend Pat Smear (born Georg Ruthenberg), co-founded the Germs.
He committed suicide by way of an intentional heroin overdose. In the years since his suicide at the age of 22, the Germs have attained legendary status among punk rock fans and musicians alike, as well as from the wider alternative rock and underground music community in general. Crash has come to be revered as a unique and talented songwriter; his myriad literary, musical and philosophical influences, which varied from Frederich Nietzsche and David Bowie to Charles Manson and Adolf Hitler, resulted in lyrics that were unusually wordy and impressionistic in the realm of punk rock at the time, immediately setting Crash and his band apart from most other Los Angeles punk groups that sprang up in the late 1970s.
Later life and suicide
Plagued by Crash's worsening heroin habit, and live performances that now often ended prematurely due to violent conflict between audience members and the Los Angeles Police Department, the Germs disintegrated in April, 1980, their last show being April 26 at the Fleetwood in Redondo Beach. Crash traveled to Britain, where he became heavily enamored with the music of Adam and the Ants, adopted an Adam Ant-inspired new look that included a mohican, and put on a considerable amount of weight (some of which he eventually lost). Upon his return to the United States, Crash formed the very short-lived Darby Crash Band; Circle Jerks drummer Lucky Lehrer joined the ill-fated ensemble on the eve of their first live performance, after Crash kicked out the drummer they'd rehearsed with during soundcheck and convinced Pat Smear to act as the group's guitarist. The band, described by Smear as "like the Germs, but with worse players".
On December 3, 1980, an over-sold Starwood hosted a final live show of the reunited band, including drummer . Don Bolles. Fans and those who were present that night consider the performance possibly the best the group ever gave.
Crash committed suicide by intentional heroin overdose on December 7, 1980 in a house in the Mid-Wilshire section of Hollywood, California. According to SPIN magazine, apocryphal lore has Crash attempting to write "Here lies Darby Crash" on the wall as he lay dying, but not finishing. In reality, he wrote a short note to Darby Crash Band bassist David "Bosco" Danford that stated "My life, my leather, my love goes to Bosco."
His death was largely overshadowed by that of John Lennon, who was killed by Mark David Chapman in New York just one day after Crash's suicide.
His female friend Casey Cola Hopkins was with him that night, at her mother's main house. Casey was supposed to have died with him in the coach house (which was a converted garage) that night as part of a supposed death pact, but ended up surviving.
Darby is interred at Holy Cross Cemetery, Culver City, California, USA, Plot: Section R (Resurrection) T9 115. He was survived by his mother Faith Sr., his elder half-sister Faith Jr., and his eldest half-sister, Christine Lucas-Smith.
Since his death, his mother received the Germs' album and merchandise royalties, thanks to Darby's deal with Bug Records that was etched out a few months prior to his death.
Darby's mother, Faith Ardelan Baker (February 28, 1922 – May 31, 2009), died in Los Angeles. Up until her death, she was convinced that her son's death was from an accidental overdose and not a suicide.
See here for more details on Darby Crash
———————————
Darby Crash Interview
---
Del Shannon (born Charles Weedon Westover; December 30, 1934 – February 8, 1990) was an American rock and roll and country musician, and singer-songwriter who is best known for his 1961 No. 1 billboard hit "Runaway".
Westover was born in Grand Rapids, Michigan, and grew up in nearby Coopersville. He learned ukulele and guitar and listened to country and western music, including Hank Williams, Hank Snow, and Lefty Frizzell. He was drafted into the Army in 1954, and while in Germany played guitar in a band called "The Cool Flames". When his service ended, he returned to Battle Creek, Michigan, and worked as a carpet salesman and as a truck driver in a furniture factory. He found part-time work as a rhythm guitarist in singer Doug DeMott's group called "The Moonlight Ramblers", working at the Hi-Lo Club.
When DeMott was fired in 1958, Westover took over as leader and singer, giving himself the name Charlie Johnson and renaming the band into The Big Little Show Band.
In early 1959 he added keyboardist Max Crook, who played the Musitron (his own invention of an early synthesizer). Crook had made recordings, and he persuaded Ann Arbor disc jockey Ollie McLaughlin to hear the band. McLaughlin took the group's demos to Harry Balk and Irving Micahnik of Talent Artists in Detroit. In July 1960, Westover and Crook signed to become recording artists and composers on the Bigtop label. Balk suggested Westover use a new name, and they came up with "Del Shannon", combining Mark Shannon—a wrestling pseudonym used by a regular at the Hi-Lo Club—with Del, derived from the Cadillac Coupe de Ville, his favorite car.

Suffering from depression, for which he was taking Prozac, Shannon committed suicide on February 8, 1990, killing himself with a .22-caliber rifle at his home in Santa Clarita, California. He was cremated, and his ashes were scattered. Following his death, the Traveling Wilburys honored him by recording a version of "Runaway". Lynne also co-produced Shannon's posthumous album, Rock On, released on Silvertone in 1991.
Del Shannon's death certificate
.Del Shannon Runaway
---
Steven Paul "Elliott" Smith (August 6, 1969 – October 21, 2003) was an American singer, songwriter, and musician. Smith was born in Omaha, Nebraska, raised primarily in Texas, and lived for much of his life in Portland, Oregon, where he first gained popularity. Smith's primary instrument was the guitar, though he was also proficient with piano, clarinet, bass guitar, drums, and harmonica. Smith had a distinctive vocal style, characterized by his "whispery, spiderweb-thin delivery", and used multi-tracking to create vocal layers, textures, and harmonies.
After playing in the rock band Heatmiser for several years, Smith began his solo career in 1994, with releases on the independent record labels Cavity Search and Kill Rock Stars (KRS). In 1997, he signed a contract with DreamWorks Records, for which he recorded two albums.
Smith rose to mainstream prominence when his song "Miss Misery"—included in the soundtrack for the film Good Will Hunting (1997)—was nominated for an Oscar in the Best Original Song category in 1998.
Smith suffered from depression, alcoholism, and drug dependence, and these topics often appear in his lyrics. In 2003, aged 34, he died in Los Angeles, California from two stab wounds to the chest. The autopsy evidence was inconclusive as to whether the wounds were self-inflicted. At the time of his death, Smith was working on his sixth studio album, From a Basement on the Hill, which was posthumously completed and released in 2004.
Smith died on October 21, 2003 at the age of 34 years from two stab wounds to the chest. At the time of the stabbing, he was at his Lemoyne Street home in Echo Park, California, where he lived with his partner, Jennifer Chiba. According to Chiba, the two were arguing, and she locked herself in the bathroom to take a shower.
Chiba heard him scream and upon opening the door saw Smith standing with a knife in his chest. She pulled the knife out, after which he collapsed and she called 9-1-1. Smith died in the hospital with the time of death listed as 1:36 p.m. A possible suicide note, written on a Post-it note, read:
"I'm so sorry—love, Elliot. God forgive me."
The name "Elliott" is misspelled as "Elliot" in the coroner's report; however, a coroner informed the Smoking Gun website "that Smith's first name was misspelled in the report", not on the Post-it note.
While Smith's death was originally reported as a suicide, the official autopsy report released in December 2003 left open the question of homicide.
According to Pitchfork Media, record producer Larry Crane reported on his Tape Op message board that he had planned to help Smith mix his album in mid-November. Crane wrote, "I hadn't talked to Elliott in over a year. His girlfriend, Jennifer, called me [last week] and asked if I'd like to come to L.A. and help mix and finish [Smith's album]. I said 'yes, of course', and chatted with Elliott for the first time in ages. It seems surreal that he would call me to finish an album and then a week later kill himself. I talked to Jennifer this morning, who was obviously shattered and in tears, and she said, 'I don't understand, he was so healthy.'"
The coroner reported that no traces of illegal substances or alcohol were found in Smith's system at the time of his death but did find prescribed levels of antidepressant, anxiolytic, and ADHD medications, including Clonazepam, Mirtazapine, Atomoxetine, and Amphetamine. There were no hesitation wounds, which are typical of suicide by self-infliction. However, the authorities do not seem to be investigating the case further.
Smith's body was cremated and a public burial site or memorial was never formally announced.
————————-
Elliott Smith "Miss Misery
---
Ephraim Lewis (1968 – 18 March 1994) was an English soul/neo-soul and R&B singer and songwriter. He was one of many highly anticipated performers that emerged in the early 1990s. However, he died with only one album to his name.
Career
Born in Wolverhampton, West Midlands, England, Lewis, known for possessing a higher-timbred, yet rich voice and impeccable diction, drew comparisons to fellow English musician, Seal. He signed with Elektra Records in 1992 and his debut Skin was released on 21 April of that year.
Lewis died on 18 March 1994 in Los Angeles in what was ruled a suicide. The coroner ruled that Lewis had jumped from a fourth floor balcony. The exact events that occurred on that day are disputed. The LAPD were present during his jump and what exactly transpired has not been agreed upon. Some reports indicated that Lewis had been stunned with a Taser after a hyperactive exchange.
Lewis was taking methamphetamines at the time.
His death remains controversial to this day. Lewis was buried on 21 April 1994.
———————————–
Ephraim Lewis – Drowning in Your Eyes
---
Graham John Clifton Bond (28 October 1937 – 8 May 1974) was an English musician and occultist, considered a founding father of the English rhythm and blues boom of the 1960s.
Bond was an innovator, described as "an important, under-appreciated figure of early British R&B", along with Cyril Davies and Alexis Korner. Jack Bruce, John McLaughlin and Ginger Baker first achieved prominence in his group, the Graham Bond Organisation. Bond was voted Britain's New Jazz Star in 1961.
He was an early user of the Hammond organ/Leslie speaker combination in British rhythm and blues – he "split" the Hammond for portability – and was the first rock artist to record using a Mellotron, on his There's A Bond Between Us LP. As such he was a major influence upon later rock keyboardists: Deep Purple's Jon Lord said "He taught me, hands on, most of what I know about the Hammond organ.
Bond's financial affairs were in chaos, and the years of lack of commercial success and the recent demise of Magus had badly hurt his pride. Throughout his career he had been hampered with severe bouts of drug addiction, and spent January 1973 in hospital after a nervous breakdown. According to Harry Shapiro, in his biography The Mighty Shadow, Bond was considered as a possible replacement for Patrick Moraz in Refugee.
On 8 May 1974, Bond died under the wheels of a Piccadilly line train at Finsbury Park station, London, at the age of 36. Most sources list the death as a suicide. Friends agree that he was off drugs, although becoming increasingly obsessed with the occult (he believed he was Aleister Crowley's son).
Bond's legacy as a springboard for talent and as a Hammond Organ pioneer musician in his own right was largely overlooked for the latter part of the 20th century. However, his legacy has been somewhat re-examined in later years and in 2015 his work was the focus of a two-hour special on the Dr Boogie radio show
———————————–
The Graham Bond Organization – Hoochie Coochie Man
---
Ian Kevin Curtis (15 July 1956 – 18 May 1980) was an English musician and singer-songwriter. He is best known as the lead singer and lyricist of the post-punk band Joy Division. Joy Division released their debut album, Unknown Pleasures, in 1979 and recorded their follow-up, Closer, in 1980.
Curtis, who suffered from epilepsy and depression, killed himself on 18 May 1980, on the eve of Joy Division's first North American tour, resulting in the band's dissolution and the subsequent formation of New Order. Curtis was known for his bass-baritone voice, dance style, and songwriting filled with imagery of desolation, emptiness and alienation.
In 1995, Curtis's widow Deborah published Touching from a Distance: Ian Curtis and Joy Division, a biography of the singer. His life and death have been dramatised in the films 24 Hour Party People (2002) and Control (2007).
Curtis's last live performance was on 2 May 1980, at High Hall of Birmingham University, a show that included Joy Division's first and only performance of "Ceremony", later recorded by New Order and released as their first single. The last song Curtis performed on stage was "Digital". The recording of this performance is on the Still album.
As described in Deborah Curtis's Touching from a Distance, Curtis was staying at his parents' house at this time and attempted to talk his wife into staying with him on 17 May 1980, to no avail. He told her to leave him alone in the house until he caught his train to Manchester the next morning.
In the early hours of 18 May 1980, Curtis hanged himself in the kitchen of his house at 77 Barton Street, Macclesfield, at the age of 23.
He had just viewed Werner Herzog's film Stroszek and listened to Iggy Pop's The Idiot. At the time of his death, his health was failing as a result of his epilepsy and, attempting to balance his musical ambitions with his marriage, which was foundering in the aftermath of his close relationship with journalist Annik Honoré (who in 2010 stated it was not an "affair" and merely a close and platonic relationship).
His wife found Ian's body the next morning; he had used the kitchen's washing line to hang himself. Deborah claimed later that he had confided to her on several occasions that he had no desire to live past his 20s.
Curtis was cremated at Macclesfield Crematorium and his ashes were buried. His memorial stone, inscribed with "Ian Curtis 18 – 5 – 80" and "Love Will Tear Us Apart", was stolen in July 2008 from the grounds of Macclesfield Cemetery. The missing memorial stone was later replaced by a new stone with the same inscription but in a different typeface.
In a 1987 interview with Option, Stephen Morris commented on how he would describe Curtis to those who asked what he was like:
"An ordinary bloke just like you or me, liked a bit of a laugh, a bit of a joke."
——————————–
Joy Division – Love Will Tear Us Apart
---
Feeder and early career
Jonathan Henry "Jon" Lee (28 March 1968 – 7 January 2002) was a Welsh drummer. He was the original drummer of the British rock band Feeder.
He committed suicide in 2002.
Feeder were formed whilst Grant Nicholas was a producer, before moving to London to gain more experience. He had already met Lee in Newport who moved to London afterwards. They formed a band named Raindancer, who despite winning a TV slot on ITV Central never gained a record deal. Shortly before this, Jon was a member of Newport band The Darling Buds, although only appearing on a couple of b-sides of the "Sure Thing" single. Raindancer's split saw bassist John Canham part ways with the band, before Simon Blight followed soon after when they reformed as Hum, which was changed to Reel, before then changing their name once again to Real when Hirose took over bass duties in 1995.
The band signed to The Echo Label in November of that year, before changing their name to Feeder, with their debut single proper "Stereoworld" reaching number 128 in the UK charts in October 1996, while the second single "Tangerine" reached number 60. The first full-length album, Polythene, was released in May 1997. Produced by Chris Sheldon, it charted at number 65 in the UK and was certified Silver for sales over 60,000 copies in 2003 when the band had already broken through. Metal Hammer magazine included it in its Top 20 Albums of 1997 list at number 1.
The follow-up album, Yesterday Went Too Soon, was produced by Nicholas. Released in August 1999, the album was a much quicker commercial success than its predecessor (entering the UK album chart at number 8 and certified Silver in 2001, with this being upgraded to Gold in 2003). The title track was the band's first UK Top 20 hit.
Lee committed suicide by hanging himself with a metal dog chain in 2002 at his home in Miami, Florida. Four suicide notes were found. With an increasingly successful music career, a supermodel wife and a young son, Lee's death came as a surprise to the public and sparked a massive reaction in tributes to the drummer.
Lee's funeral took place at St. Mary's Church in Newport on 18 January 2002, where thousands of fans showed up alongside family and friends to pay their own respects. Matt Page, Feeder's manager, read "Do Not Stand at My Grave and Weep", as requested by Lee's father. Feeder's 1997 single "High" was also played during the ceremony, during which Grant Nicholas gave the following statement:
| | | |
| --- | --- | --- |
| " | Jon had such a taste for life, which makes this whole thing such a mystery to us all. He could be the life and soul of any party. Yet, quiet, sensitive and understanding to anyone that needed a friendly ear. I always felt there was a raging fire in his soul which he channelled into his drumming; showing no fear to anything he put his hand to… hope you are at peace now, Jon boy. Forever young. Your friend always. | " |
Feeder decided to continue, with Nicholas saying, "Jon would have wanted us to carry on."
Former Skunk Anansie drummer Mark Richardson helped the band out on drum duties for their album Comfort In Sound and subsequent live performances.
See here for more details on Jon Lee
————————————
Jon Lee Tribute
---
Keith Noel Emerson (2 November 1944 – 10 March 2016) was an English keyboardist and composer. Emerson played in a number of bands before he found his first commercial success with the Nice, formerly P. P. Arnold's backing band, in the late 1960s. He became internationally famous for his work with the Nice, which included writing rock arrangements of classical music.
After leaving the Nice in 1970, he was a founding member of Emerson, Lake & Palmer (ELP), one of the early progressive rock supergroups. Emerson, Lake & Palmer were commercially successful through much of the 1970s, becoming one of the best-known progressive rock groups of the era.
Emerson wrote and arranged much of ELP's music on albums such as Tarkus (1971) and Brain Salad Surgery (1973), combining his own original compositions with classical or traditional pieces adapted into a rock format.
Following ELP's break-up at the end of the 1970s, Emerson pursued a solo career, composed several film soundtracks, and formed the bands Emerson, Lake & Powell and 3 to carry on in the style of ELP. In the early 1990s, Emerson rejoined ELP, which reunited for two more albums and several tours before breaking up again in the late 1990s. Emerson also reunited the Nice in 2002 for a tour.
Emerson died on 10 March 2016 in Santa Monica, California, of suicide by a gunshot wound to the head. His body was found at his Santa Monica home. The medical examiner's report, following an autopsy, concluded that Emerson had also suffered from heart disease and from depression associated with alcohol. According to Emerson's girlfriend Mari Kawaguchi, Emerson had become "depressed, nervous and anxious" because nerve damage had hampered his playing, and he was worried that he would perform poorly at upcoming concerts and disappoint his fans.
Emerson was buried on 1 April 2016 in East Sussex. Although his death had been reported by news sources and an official Emerson, Lake and Palmer social media page as having occurred on the night of 10 March, his grave memorial lists his date of death as 11 March 2016.
His former ELP bandmates, Carl Palmer and Greg Lake, both issued statements on his death. Palmer said, "Keith was a gentle soul whose love for music and passion for his performance as a keyboard player will remain unmatched for many years to come."
Lake said,
"As sad and tragic as Keith's death is, I would not want this to be the lasting memory people take away with them. What I will always remember about Keith Emerson was his remarkable talent as a musician and composer and his gift and passion to entertain. Music was his life and despite some of the difficulties he encountered I am sure that the music he created will live on forever"
See here for more information on Keith Emerson
———————————-
Keith Emerson – Piano Improvisations
---
Kurt Donald Cobain (February 20, 1967 – c. April 5, 1994) was an American musician who was best known as the lead singer, guitarist, and primary songwriter of the rock band Nirvana. Cobain formed Nirvana with Krist Novoselic in Aberdeen, Washington, in 1985 and established it as part of the Seattle music scene and grunge genre. Nirvana's debut album Bleach was released on the independent record label Sub Pop in 1989.
After signing with major label DGC Records, the band found breakthrough success with "Smells Like Teen Spirit" from their second album Nevermind (1991). Following the success of Nevermind, Nirvana was labeled "the flagship band" of Generation X, and Cobain hailed as "the spokesman of a generation". Cobain, however, was often uncomfortable and frustrated, believing his message and artistic vision to have been misinterpreted by the public, with his personal issues often subject to media attention.
During the last years of his life, Cobain struggled with heroinaddiction, illness and depression. He also had difficulty coping with his fame and public image, and the professional and lifelong personal pressures surrounding himself and his wife, musician Courtney Love. On April 8, 1994, Cobain was found dead at his home in Seattle, the victim of what was officially ruled a suicide by a self-inflicted shotgun wound to the head. The circumstances of his deathat age 27 have become a topic of public fascination and debate. Since their debut, Nirvana, with Cobain as a songwriter, has sold over 25 million albums in the U.S., and over 75 million worldwide. Cobain was posthumously inducted into the Rock and Roll Hall of Fame in 2014, along with Nirvana bandmates Novoselic and Dave Grohl, in their first year of eligibility.
Following a tour stop at Terminal Eins in Munich, Germany, on March 1, 1994, Cobain was diagnosed with bronchitis and severe laryngitis. He flew to Rome the next day for medical treatment, and was joined there by his wife, Courtney Love, on March 3, 1994. The next morning, Love awoke to find that Cobain had overdosed on a combination of champagne and Rohypnol. Cobain was immediately rushed to the hospital, and spent the rest of the day unconscious. After five days in the hospital, Cobain was released and returned to Seattle. Love later stated that the incident was Cobain's first suicide attempt.
On March 18, 1994, Love phoned the Seattle police informing them that Cobain was suicidal and had locked himself in a room with a gun. Police arrived and confiscated several guns and a bottle of pills from Cobain, who insisted that he was not suicidal and had locked himself in the room to hide from Love.
Love arranged an intervention regarding Cobain's drug use on March 25, 1994. The ten people involved included musician friends, record company executives, and one of Cobain's closest friends, Dylan Carlson. The intervention was initially unsuccessful, with an angry Cobain insulting and heaping scorn on its participants and eventually locking himself in the upstairs bedroom. However, by the end of the day, Cobain had agreed to undergo a detox program.
Cobain arrived at the Exodus Recovery Center in Los Angeles, California on March 30, 1994. The staff at the facility were unaware of Cobain's history of depression and prior attempts at suicide. When visited by friends, there was no indication to them that Cobain was in any negative or suicidal state of mind. He spent the day talking to counselors about his drug abuse and personal problems, happily playing with his daughter Frances. These interactions were the last time Cobain saw his daughter.
The following night, Cobain walked outside to have a cigarette, and climbed over a six-foot-high fence to leave the facility (which he had joked earlier in the day would be a stupid feat to attempt). He took a taxi to Los Angeles Airport and flew back to Seattle. On the flight, he sat next to Duff McKagan of Guns N' Roses. Despite Cobain's own personal animosity towards Guns N' Roses, and specifically Axl Rose, Cobain "seemed happy" to see McKagan. McKagan later stated he knew from "all of my instincts that something was wrong".
Most of his close friends and family were unaware of his whereabouts. On April 2 and 3, Cobain was spotted in numerous locations around Seattle. On April 3, Love contacted private investigator Tom Grant, and hired him to find Cobain. Cobain was not seen the next day. On April 7, amid rumors of Nirvana breaking up, the band pulled out of the 1994 Lollapalooza music festival.
On April 8, Cobain's body was discovered at his Lake Washington Boulevard home by an electrician named Gary Smith who had arrived to install a security system. Apart from a minor amount of blood coming out of Cobain's ear, the electrician reported seeing no visible signs of trauma, and initially believed that Cobain was asleep until he saw the shotgun pointing at his chin. A note was found, addressed to Cobain's childhood imaginary friend "Boddah", that stated that Cobain had not "felt the excitement of listening to as well as creating music, along with really writing… for too many years now". A high concentration of heroin and traces of diazepam were also found in his body. Cobain's body had been lying there for days; the coroner's report estimated Cobain to have died on April 5, 1994.
A public vigil was held for Cobain on April 10, 1994, at a park at Seattle Center drawing approximately seven thousand mourners. Prerecorded messages by Novoselic and Love were played at the memorial. Love read portions of Cobain's suicide note to the crowd, crying and chastising Cobain. Near the end of the vigil, Love arrived at the park and distributed some of Cobain's clothing to those who still remained.
Grohl would say that the news of Cobain's death was:
| | | |
| --- | --- | --- |
| " | … probably the worst thing that has happened to me in my life. I remember the day after that I woke up and I was heartbroken that he was gone. I just felt like, "Okay, so I get to wake up today and have another day and he doesn't." | " |
He also believed that he knew Cobain would die at an early age, saying that "sometimes you just can't save someone from themselves", and "in some ways, you kind of prepare yourself emotionally for that to be a reality".
Dave Reed, who for a short time was Cobain's foster father, said that "he had the desperation, not the courage, to be himself. Once you do that, you can't go wrong, because you can't make any mistakes when people love you for being yourself. But for Kurt, it didn't matter that other people loved him; he simply didn't love himself enough".
A final ceremony was arranged for Cobain, by his mother, on May 31, 1999, and was attended by both Love and Tracy Marander. As a Buddhist monk chanted, daughter Frances Bean scattered Cobain's ashes into McLane Creek in Olympia, the city where he "had found his true artistic muse".
Cobain's artistic endeavors and struggles with heroin addiction, illness and depression, as well as the circumstances of his death have become a frequent topic of fascination, debate, and controversy throughout the world. According to a spokesperson for the Seattle Police Department, the department receives at least one weekly request, mostly through Twitter, to reopen the investigation, resulting in the maintenance of the basic incident report on file.
Cobain is one of the well known members of the 27 Club.
In March 2014, the Seattle police developed four rolls of film that had been left in an evidence vault—a reason was not provided for why the rolls were not developed earlier. According to the Seattle police, the 35mm film photographs show the scene of Cobain's dead body more clearly than previous Polaroid images taken by the police. Detective Mike Ciesynski, a cold case investigator, was instructed to look at the film because "it is 20 years later and it's a high media case". Ciesynski stated that Cobain's death remains a suicide and that the images would not have been released publicly. The photos in question were later released, one by one, weeks before the 20th anniversary of Cobain's death. One photo shows Cobain's arm, still wearing the hospital bracelet from the drug rehab facility he checked out of just a few days prior to returning to Seattle. Another photo shows Cobain's foot resting next to a bag of shotgun shells, one of which was used in his death.
Cobain's suicide note (full transcription). The final phrase before the valediction,
"it's better to burn out than to fade away", is a quote from the lyrics of Neil Young's song "My My, Hey Hey (Out of the Blue)"
See here for more information on Kurt Cobain
Suicide Note
————————————
Nirvana – Smells Like Teen Spirit
————————————
Michael Kelland John Hutchence (22 January 1960 – 22 November 1997) was an Australian musician and actor. He was a founding member, lead singer and lyricist of rock band INXS from 1977 until his death in 1997. He was a member of short-lived pop rock group Max Q and recorded solo material which was released posthumously. He acted in feature films, including Dogs in Space(1986), Frankenstein Unbound (1990) and Limp (1997). According to rock music historian, Ian McFarlane, "Hutchence was the archetypal rock showman. He exuded an overtly sexual, macho cool with his flowing locks, and lithe and exuberant stage movements".
Hutchence won the 'Best International Artist' at the 1991 BRIT Awards with INXS winning the related group award.
His private life was often reported in the Australian and international press, with a string of love affairs with prominent actresses, models and singers. Hutchence's relationship with UK television presenter Paula Yates began while she was married to musician andLive Aid organiser Bob Geldof. They divorced in 1996. During July of the same year, Hutchence and Yates had a daughter, Heavenly Hiraani Tiger Lily.
On the morning of 22 November 1997, Hutchence was found dead in his hotel room in Sydney. His death was reported by the New South Wales Coroner to be the result of suicide. In 2000, Yates died of a heroin overdose. The couple's daughter was placed in Geldof's custody with her half-sisters
Hutchence and INXS went on a world tour to support the April 1997 release of Elegantly Wasted, both the album and its related singles having had less chart success than their prior releases.
The final leg of their 20th anniversary tour was to be in Australia in November and December. However, on the morning of 22 November 1997, Hutchence, aged 37, was found dead in Room 524 at the Ritz-Carlton hotel in Double Bay, Sydney.
On 6 February 1998, after an autopsy and coronial inquest, New South Wales State Coroner, Derrick Hand, presented his report which ruled that Hutchence's death was a suicide while depressed and under the influence of alcohol and other drugs.
Former girlfriend Kym Wilson and her then boyfriend, Andrew Reyment, were the last people to see Hutchence alive when they left him at 4:50 am; he was still awaiting a phone call from Yates in London concerning whether she would bring their daughter Tiger to Australia. Hutchence's second last outgoing phone call was to his personal manager, Martha Troup's voice-mail,
"Marth, Michael here. I've fucking had enough".
When Troup returned the call there was no answer. At 9:54 am he talked to his former longtime girlfriend, Michèle Bennett, who stated that he was crying, sounded upset and said he needed to see her. Bennett arrived at his door at about 10:40 am, but there was no response. Hutchence's body was discovered by a hotel maid at 11:50 am. Police reported that, "He was in a kneeling position facing the door. He had used his snake skin belt to tie a knot on the automatic door closure at the top of the door, and had strained his head forward into the loop so hard that the buckle had broken".
After Hutchence's death, Geldof and Yates each gave police statements on the phone calls they exchanged with Hutchence that morning but did not volunteer their phone records. Yates's statement on 26 November included "He was frightened and couldn't stand a minute more without his baby … [he] was terribly upset and he said,
'I don't know how I'll live without seeing Tiger'".
Yates contended that Geldof had repeatedly said, "Don't forget, I am above the law", referring to his influence since Live Aid. Her statement said that she had informed Hutchence of the custody hearing being adjourned until 17 December and that consequently she would not be bringing their daughter out to Australia as previously intended. Yates indicated that Hutchence said he was going to phone Geldof, "to let Tiger come to Australia".
Geldof's police statements and evidence to the coroner indicated that he patiently listened to Hutchence who was "hectoring and abusive and threatening". A friend of Yates and Geldof confirmed the substance of this call and added that Geldof had said,
"I know what time the call ended, it was 20 to 7, I was going to log it as a threatening call".
The occupant in the room next to Room 524 heard a loud male voice and swearing at about 5 am; the coroner was satisfied that this was Hutchence arguing with Geldof.
On 27 November, Hutchence's coffin was carried out of St. Andrew's Cathedral by members of the band and his younger brother Rhett. "Never Tear Us Apart" was played in the background. Nick Cave, a friend of Hutchence, performed his 1997 song "Into My Arms" during the funeral and requested that television cameras be switched off. Rhett claimed in his 2004 book, Total XS, that on the previous day at the funeral parlour, Yates had put a gram of heroin into the dead Hutchence's pocket.
He was cremated at Northern Suburbs Crematorium, Sydney.
———————————————–
INXS – Need You Tonight
---
Nicholas Rodney "Nick" Drake (19 June 1948 – 25 November 1974) was an English singer-songwriter and musician, known for his acoustic guitar-based songs. He failed to find a wide audience during his lifetime, but his work has gradually achieved wider notice and recognition.
Drake signed to Island Records when he was 20 years old and was a student at the University of Cambridge, and released his debut album, Five Leaves Left, in 1969. By 1972, he had recorded two more albums—Bryter Layter and Pink Moon. Neither sold more than 5,000 copies on initial release.
Drake's reluctance to perform live, or be interviewed, contributed to his lack of commercial success. No footage of the adult Drake has ever been released; only still photographs and home footage from his childhood.
Drake suffered from major depression. This was often reflected in his lyrics. On completion of his third album, 1972's Pink Moon, he withdrew from both live performance and recording, retreating to his parents' home in rural Warwickshire.
On 25 November 1974, at the age of 26, Drake died from an overdose of approximately 30 amitriptyline pills, a prescribed antidepressant. His cause of death was determined to be suicide.
Drake's music remained available through the mid-1970s, but the 1979 release of the retrospective album Fruit Tree allowed his back catalogue to be reassessed. By the mid-1980s Drake was being credited as an influence by such artists as Robert Smith, David Sylvian and Peter Buck. In 1985, The Dream Academy reached the UK and US charts with "Life in a Northern Town", a song written for and dedicated to Drake.
By the early 1990s, he had come to represent a certain type of "doomed romantic" musician in the UK music press. His first biography was published in 1997, followed in 1998 by the documentary film A Stranger Among Us.
By autumn 1974, Drake's weekly retainer from Island had ceased, and his illness meant he remained in contact with only a few close friends. He had tried to stay in touch with Sophia Ryde, whom he had first met in London in 1968.
Ryde has been described by Drake's biographers as "the nearest thing" to a girlfriend in his life, but she now prefers the description "best (girl) friend". In a 2005 interview, Ryde revealed that a week before he died, she had sought to end the relationship:
"I couldn't cope with it. I asked him for some time. And I never saw him again."
As with the relationship he had earlier shared with fellow folk musician Linda Thompson, Drake's relationship with Ryde was never consummated.
At some time during the night of 24/25 November 1974, Nick Drake died at home in Far Leys, Tanworth-in-Arden, from an overdose of amitriptyline, a type of antidepressant. He had gone to bed early after spending the afternoon visiting a friend. His mother said that around dawn he left his room for the kitchen. His family was used to hearing him do this many times before but, during this instance, he did not make a sound. They presumed he was eating a bowl of cereal. He returned to his room a short while later, and took some pills "to help him sleep".
Drake was accustomed to keeping his own hours; he frequently had difficulty sleeping and often stayed up through the night playing and listening to music, then slept late into the following morning. Recalling the events of the night, his mother later said: "I never used to disturb him at all. But it was about 12 o'clock, and I went in, because really it seemed it was time he got up. And he was lying across the bed. The first thing I saw was his long, long legs."
There was no suicide note, although a letter addressed to Ryde was found close to his bed
See here for more information on Nick Drake
The grave where Drake's ashes are buried, mingled with those of his parents.
The gravestone is inscribed with the epitaph 'Now we rise / And we are everywhere', taken from "From the Morning," the final song on his final album, Pink Moon.
——————————
Nick Drake – Pink Moon
---
Peter William Ham (27 April 1947 – 24 April 1975) was a Welsh singer, songwriter and guitarist, primarily recognized for having been the lead singer/composer of the 1970s rock group Badfinger's hit songs, "No Matter What", "Day After Day" and "Baby Blue." He also co-wrote the ballad "Without You", a worldwide Number One hit for Harry Nilsson and it has become a standard song as covered by hundreds of artists consistently throughout the years since. Ham was granted two Ivor Novello Awards related to the song in 1973.
———————————–
`They Sold A Million` Badfinger BBC documentary
———————————–
Ham committed suicide in 1975, when he became depressed while embroiled in band-related issues, such as label and manager problems, as well as a lack of funds.
Blue plaque commemorating Pete Ham in his hometown of Swansea, Wales
During the Warner Bros. Records era from 1973–75, Badfinger became embroiled in many internal, financial, and managerial problems and their music was stifled. By 1975, with no income and the band's business manager uncommunicative, Ham became despondent and he hanged himself in the garage of his Surrey home. Ham was aged 27 at the time; his suicide fell just three days shy of his 28th birthday. He left behind a pregnant girlfriend, who gave birth to their daughter one month after his death.
His suicide note had the statement,
"I will not be allowed to love and trust everybody. This is better."
It also included an accusatory blast toward Badfinger's business manager, Stan Polley:
"P.S. Stan Polley is a soulless bastard. I will take him with me."
News of Ham's death was not widely disseminated at the time, as no public comment was made by The Beatles, Apple Corps Ltd, or Warner Bros. Records
See below for Tom Evans who also killed himself
See here for more information on Peter Ham
——————————–
Badfinger – Without You – Pete Ham
---
Philip David "Phil" Ochs (/ˈoʊks/; December 19, 1940 – April 9, 1976) was an American protest singer (or, as he preferred, atopical singer) and songwriter who was known for his sharp wit, sardonic humor, earnest humanism, political activism, insightful and alliterative lyrics, and distinctive voice. He wrote hundreds of songs in the 1960s and 1970s and released eight albums.
Ochs performed at many political events during the 1960s counterculture era, including anti-Vietnam War and civil rights rallies, student events, and organized labor events over the course of his career, in addition to many concert appearances at such venues as New York City's Town Hall and Carnegie Hall. Politically, Ochs described himself as a "left social democrat" who became an "early revolutionary" after the protests at the 1968 Democratic National Convention in Chicago led to a police riot, which had a profound effect on his state of mind.
After years of prolific writing in the 1960s, Ochs's mental stability declined in the 1970s. He eventually succumbed to a number of problems including bipolar disorder and alcoholism, and took his own life in 1976.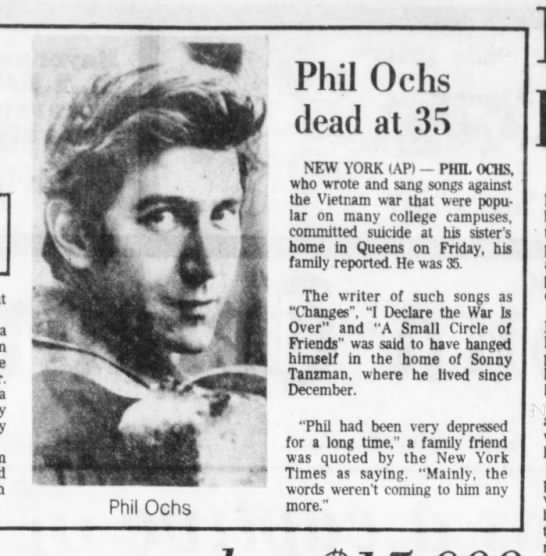 Ochs's drinking became more and more of a problem, and his behavior became increasingly erratic. He frightened his friends both with his drunken rants about the FBI and CIA, and about his claiming to want to have Elvis's manager Colonel Tom Parker or Kentucky Fried Chicken'sColonel Sanders manage his career.
In mid-1975, Ochs took on the identity of John Butler Train. He told people that Train had murdered Ochs, and that he, John Butler Train, had replaced him. Train was convinced that someone was trying to kill him, so he carried a weapon at all times: a hammer, a knife, or a lead pipe.
Ochs's friends tried to help him. His brother Michael attempted to have him committed to a psychiatric hospital. Friends pleaded with him to get help voluntarily. They feared for his safety, because he was getting into fights with bar patrons. Unable to pay his rent, he began living on the streets.
After several months, the Train persona faded and Ochs returned, but his talk of suicide disturbed his friends and family. They hoped it was a passing phase, but Ochs was determined.
One of his biographers explains Ochs's motivation:
By Phil's thinking, he had died a long time ago: he had died politically in Chicago in 1968 in the violence of the Democratic National Convention; he had died professionally in Africa a few years later, when he had been strangled and felt that he could no longer sing; he had died spiritually when Chile had been overthrown and his friend Victor Jara had been brutally murdered; and, finally, he had died psychologically at the hands of John Train.
In January 1976, Ochs moved to Far Rockaway, New York, to live with his sister Sonny. He was lethargic; his only activities were watching television and playing cards with his nephews. Ochs saw a psychiatrist, who diagnosed his bipolar disorder. He was prescribed medication, and he told his sister he was taking it.
On April 9, 1976, Ochs committed suicide by hanging himself in Sonny's home.
Years after his death, it was revealed that the FBI had a file of nearly 500 pages on Ochs. Much of the information in those files relates to his association with counterculturefigures, protest organizers, musicians, and other people described by the FBI as "subversive".
The FBI was often sloppy in collecting information on Ochs: his name was frequently misspelled "Oakes" in their files, and they continued to consider him "potentially dangerous" after his death
See here for more information on Phil Ochs
———————————————–
Phil Ochs — When I'm Gone
---
Richard George Manuel (April 3, 1943 – March 4, 1986) was a Canadian composer, singer, and multi-instrumentalist, best known as the pianist, regular lead singer, and occasional drummer of The Band. He was a member of the original band from 1967 to 1976 and the re-formed band from 1983 until his death.
Early life and career
Richard Manuel was born in Stratford, Ontario, Canada. His father, Ed, was a mechanic employed at a Chrysler dealership, and his mother was a schoolteacher. He was raised with his three brothers, and the four sang in the church choir. Manuel took piano lessons beginning when he was nine, and enjoyed playing piano and rehearsing with friends at his home. Manuel received a diploma from the Ontario Conservatory of Music in lap steel guitar; this was his only formal music certification. Some of his childhood influences were Ray Charles, Bobby Bland, Jimmy Reed and Otis Rush.
He and three friends started a band when he was fifteen, originally named the Rebels but later changed to the Revols, in deference to Duane Eddy and the Rebels. The group also included Ken Kalmusky, a founding member of Great Speckled Bird, and John Till, a founding member of the Full Tilt Boogie Band. Although primarily known as a naturally talented vocalist with a soulful rhythm and blues style and rich timbre (often compared to that of Ray Charles), Manuel also developed an intensely rhythmic style of piano unique in its usage of inverted chord structures. These talents were showcased in the Revols.
Manuel first became acquainted with Ronnie Hawkins and the Hawks when the Revols opened for them in Port Dover, Ontario. According toLevon Helm, Hawkins remarked to him about Manuel: "See that kid playing piano? He's got more talent than Van Cliburn." The two bands once again connected at the Stratford Coliseum in 1961, when the Revols ended a show featuring the Hawks as headliners. After hearing Manuel singing "Georgia on My Mind", Hawkins hired the Revols' pianist rather than competing with them
In January 1986, Albert Grossman died of a heart attack. Grossman had been a father figure and confidant to Manuel, and an instrumental figure in any possible solo career. Depressed by Grossman's death, dwindling access to prestigious concert venues and the perception that the Band had stagnated and had become a traveling jukebox, Manuel returned to his alcohol and cocaine addictions. On March 4, after a gig at the Cheek to Cheek Lounge, in Winter Park, Florida (outside Orlando), Manuel committed suicide.[9] He had appeared to be in relatively good spirits but ominously thanked Hudson for "twenty-five years of incredible music". The Band returned to the Quality Inn, down the block from the Cheek to Cheek Lounge, and Manuel talked with Levon Helm about music and film in Helm's room. According to Helm, at around 2:30 Manuel said he needed to get something from his room. Upon returning to his motel room, it is believed that he finished one last bottle of Grand Marnier before hanging himself. Manuel's wife Arlie—also intoxicated at the time—discovered his body along with the depleted bottle and a small amount of cocaine the following morning. He was buried a week later in his hometown ofStratford, Ontario.
At the end of March, Rick Danko declared:
"I can't believe in a million years that he meant for that to happen. There was just no sign (…) I have to think this was just a goddamned silly accident."
A blood toxicology report indicated that Manuel was drunk and had ingested cocaine the day he died.
See here for more information on Richard Manuel
————————————–
Richard Manuel – You Dont Know Me – Tokyo 1983
---
Ronald Douglas "Ronnie" Montrose (November 29, 1947 – March 3, 2012) was an American rock guitarist, who led the bandsMontrose (1973-77 & 1987) and Gamma (1979-83 & 2000) and also performed and did session work with a variety of musicians, including Van Morrison (1971–72), Herbie Hancock (1971), Beaver & Krause (1971), Boz Scaggs (1971), Edgar Winter (1972 & 1996), Gary Wright (1975), The Beau Brummels (1975), Dan Hartman (1976), Tony Williams (1978), The Neville Brothers (1987),Marc Bonilla (1991 & 1993), Sammy Hagar (1997), and Johnny Winter. The first Montrose album was often cited as "America's answer to Led Zeppelin" and Ronnie Montrose was often referred to as one of the most influential guitarists in American hard
On March 3, 2012, Montrose died from a self-inflicted gunshot wound. His death was originally assumed to be the result of his prostate cancer returning.
However, the San Mateo County Coroner's Office released a report which confirmed the guitarist had taken his own life.
The toxicology reported a blood alcohol content of 0.31 percent at the time of death. In early 2012, the deaths of his uncle and of Lola, his bulldog, worsened his, what Guitar Player magazine called "clinical depression that plagued him since he was a toddler
See here for more information on Ronnie Montrose
—————————————
Ronnie Montrose…Town Without Pity
---
John Beverly, born John Simon Ritchie, later named Sid Vicious (10 May 1957 – 2 February 1979), was an English musician, most famous as the bass guitarist of the influential punk rock band the Sex Pistols, and notorious for his arrest for the allegedmurder of his girlfriend, Nancy Spungen.
Vicious joined the Sex Pistols in early 1977 to replace Glen Matlock, who had fallen out of favour with the rest of the group. Due tointravenous drug use, Vicious was hospitalised with hepatitis during the recording of the band's only studio album Never Mind the Bollocks. Accordingly, his bass is only partially featured on one song from the album. Vicious would later appear as a lead vocalist, performing three cover songs, on the soundtrack to The Great Rock 'n' Roll Swindle, a largely fictionalised documentary about the Sex Pistols, produced by the group's former manager Malcolm McLaren and directed by Julien Temple.
During the Sex Pistols' brief, chaotic ascendancy, Vicious met eventual girlfriend and manager Nancy Spungen, and the pair entered a destructive codependent relationship based on drug use. This culminated in Spungen's death from an apparent stab wound while staying in New York City's Hotel Chelsea with Vicious.
Under suspicion of having committed Spungen's murder, Vicious was released on bail; he was later arrested again for assaulting Todd Smith, brother of Patti Smith, at a night club, and underwent drug rehabilitation on Rikers Island. In celebration of Vicious' release from prison, his mother hosted a party for him at his girlfriend's residence in Greenwich Village, which was attended notably by the Misfits bassist Jerry Only. Vicious' mother had been supplying him with drugs and paraphernalia since he was young; late that night she assisted him in procuring heroin, and he died in his sleep after overdosing on it.
Party and possible suicide
On the evening of 1 February 1979, a small gathering to celebrate Vicious having made bail was held at a friend's Manhattan apartment in New York City. Vicious was clean, having been on a detoxification methadone program during his time at Rikers Island, but at the dinner gathering, Sid had his friend, English photographer Peter Kodick, deliver him some heroin. Sid had apparently spent hours during the party looking toward the future, planning an album he would record to get his life and career back on track should he be off the hook. Vicious overdosed at midnight, but everyone present worked together to get him up and walking around to revive him. Vicious died in the night and was discovered dead by Anne, his mother, early the next morning.
Sid Vicious Death Certificate
In his first interview, appearing in the Daily Mirror's 11 June 1977 issue, Vicious said "I'll probably die by the time I reach 25. But I'll have lived the way I wanted to."
A few days after Vicious' cremation, his mother allegedly found a suicide note in the pocket of his jacket:
We had a death pact, and I have to keep my half of the bargain. Please bury me next to my baby. Bury me in my leather jacket, jeans and motorcycle boots Goodbye.[27]
Since Spungen was Jewish, she was buried in a Jewish cemetery. As Vicious was not Jewish, he could not be buried with her. According to the book Please Kill Me: The Uncensored Oral History of Punk by Legs McNeil and Gillian McCain, Jerry Only of the Misfits drove Anne and her sister, and two of Sid's friends to the cemetery where Nancy was buried, and Anne scattered Sid's ashes over Nancy's grave.[28] In the same book, it is alleged that the cemetery didn't want to be associated with Vicious and his inherent negative reputation, and it is speculated that this was of greater importance to them than the above-stated reason he and Nancy could not be buried together.
See here for more information on Sid Vicious
——————————–
Sex Pistols – Sid Vicious – My Way
---
David Victor Emmanuel (10 February 1963 – 15 March 2011),[1] better known as Smiley Culture, was a British reggae singer and DJ known for his 'fast chat' style. During a relatively brief period of fame and success, he produced two of the most critically acclaimed reggae singles of the 1980s.
He died on 15 March 2011, aged 48, during a police raid on his home. An inquest found that his death was a suicide.
On 15 March 2011, Emmanuel died, reportedly from a self-inflicted stab wound, while the police were searching his house in Hillbury Road, Warlingham, Surrey. His death came an hour and a half after officers arrived with a search warrant relating to the import of Class A drugs into the UK.
A post-mortem examination revealed that he had died from a single stab wound to the heart.
He is survived by his mother, son, daughter, sister and three brothers.
His death was investigated by the Independent Police Complaints Commission. In their final report – which at the request of the coroner[26][27] was neither made public nor made available to Emmanuel's family – the IPCC concluded that there was no evidence justifying the pressing of criminal charges against any of the four officers present at the house during the raid. In the IPCC statement following the inquest – which returned a verdict of suicide – it was stated that there was neither criminal conduct by officers, nor individual failings by officers that might amount to misconduct.
Nonetheless, the report also pointed out flaws in the police raid and called on the Metropolitan Police Service to improve the planning and execution of their drug seizures.
However, Smiley's family raised concerns about the investigation, claiming that the IPCC "had let [them] down" and that many "unanswered questions" remained.
The conditions surrounding his death and the subsequent investigation were also questioned by members of the general public, his death often being considered in the context of police brutality and other black people dying in police custody.
A study into the causes and consequences of the 2011 United Kingdom riots, led by the London School of conomics in collaboration with the British newspaper The Guardian, identified Emmanuel's death, perceived by some as a prominent case of police abuse, as a contributing factor to the riots.
See here for more information on Smiley Culture
———————————
Police Officer – Smiley culture
---
William Stuart Adamson (11 April 1958 – 16 December 2001) was a Scottish guitarist, vocalist, and songwriter. He was the co-founder, lead vocalist, and guitarist of rock group Big Country, which rose to prominence in 1983. Prior to that he founded Scottishart-punk band Skids. In the 1990s he founded alternative country rock act The Raphaels. He was once described by DJ John Peel as "the new Jimi Hendrix
Adamson was born in Manchester. Both his parents were Scottish, and the family returned to Scotland when he was four. The family settled in a small mining town, Crossgates, about a mile to the east of Dunfermline in Fife.
Adamson founded his first two bands in Dunfermline and they both started out playing Dunfermline and across the Firth of Forth in Edinburgh. He went to school with Ian Rankin, who was two years younger and went on to become a fan of Skids.
Adamson was a lifelong supporter of Dunfermline Athletic Football Club.
Adamson's father was in the fishing industry and travelled the world. He encouraged Stuart to read literature, and both parents shared an interest in folk music. Adamson founded his first band, Tattoo, in 1976 after seeing The Damned play in Edinburgh. Besides Adamson, Tattoo included his friend William Simpson, who would also play bass guitar for his next band, Skids.
Big Country
Adamson came to greater international prominence with Big Country. He constructed the band with friend and fellow-guitarist Bruce Watson (then employed as a cleaner on submarines at Rosyth naval base) and a rhythm section of studio musicians Mark Brzezicki and Tony Butler, whom he found with the help of his record company.
Big Country's first hit, 1983's "Fields of Fire", reached the UK's Top Ten, and was rapidly followed by the album The Crossing. The album was a big hit in the United States powered by the single "In a Big Country", which was performed on Saturday Night Live. The video for "In A Big Country" received frequent airplay on MTV and featured the band riding all terrain vehicles in the countryside.
Their second album Steeltown appeared in 1984. The band's third album was The Seer. The first two albums were produced by Steve Lillywhite. The band continued to record studio albums, and to tour until 1999. Adamson supplied much of the distinctive guitar work, as well as being lead singer and main songwriter (both music and lyrics). The band's lineup never underwent changes, the exception being a brief departure of drummer Mark Brzezicki in the early 1990s and his temporary replacement by Pat Ahern.
Adamson was also a keen motorcyclist and regularly purchased new machines for riding around Fife. His interest extended to the race track where he sponsored British Championship rider Iain Duffus in the late eighties.
Adamson was married twice. He had two children with his first wife Sandra in 1982 and 1985. His son Calum Adamson is the guitarist of British band Ahab. In 1996, Adamson split with Sandra and moved to Nashville.
There he married his second wife, Melanie Shelly, and founded his final band, the alternative country band The Raphaels, a duo of Adamson and Nashville songwriter Marcus Hummon.
On 26 November 2001, Adamson was reported missing by his wife Melanie. At the time, the couple had been estranged for six weeks, and Melanie filed for divorce on the day he disappeared. Adamson had been due to face drunk-driving charges in March 2002, and had been ordered to attend Alcoholics Anonymous. He was an alcoholic and had resumed drinking, after having been sober for over a decade. On 16 December 2001, his body was found in a closet in his room at the Best Western Plaza Hotel in Honolulu, Hawaii. According to police, Adamson had hanged himself with an electrical cord from a pole in the wardrobe. An empty wine bottle was found in the room.
At the time of death he had a blood-alcohol content of 0.279%.
U2's The Edge delivered the eulogy at Adamson's funeral which was held at Carnegie Hall, Dunfermline. He told the mourners that Big Country wrote the songs that he wished U2 could write.
See here for more information on Stuart Adamson
———————————
BIG COUNTRY LIVE FIELDS OF FIRE 1995
---
Thomas Evans Jr (5 June 1947 – 19 November 1983) was an English musician and songwriter, most notable for his work with the band Badfinger.
The Iveys
n July 1967, the Iveys (Pete Ham, Ron Griffiths, Mike Gibbins and Dave Jenkins) went to Liverpool at the suggestion of their manager, Bill Collins, to recruit a replacement for Dave Jenkins, their rhythm guitarist and frontman. They discovered Tommy Evans singing with Them Calderstones and invited him to London to audition for the band. He eventually accepted and joined the Iveys in August 1967. His first gig with the Iveys was on 20 August 1967 at the Starlite Ballroom in Crawley.
On 23 July 1968, the Iveys were signed to the Beatles' Apple Records label. Their debut worldwide single release was Maybe Tomorrow, which was a Tom Evans composition, written for his girlfriend in Liverpool, Leslie Sandton, who he used to date when he was a member of Them Calderstones.
On 15 November 1968, Maybe Tomorrow b/w an Evans/Ham song And Her Daddy's a Millionaire was released in the UK on Apple 5. The US release date was 27 January 1969 (Apple 1803) and the song peaked at No. 51 on the Cash Box chart and No. 67 on the Billboard chart. In the Netherlands, it reached No. 1. It was also very successful throughout Europe and in Japan.
In July 1969, this prompted the release of the Iveys' album Maybe Tomorrow being only released in those countries where the single charted high. The album was released in Japan, Italy and Germany only. The album contained the following Tom Evans compositions: Beautiful and Blue, Fisherman, Maybe Tomorrow and Angelique.
One of the attempts at a follow-up single to Maybe Tomorrow was another Tom Evans composition called Storm in a Teacup, but this was rejected and ended up being used on a promotional Apple EP for Wall's Ice Cream in July 1969.
Badfinger
———————————–
`They Sold A Million` Badfinger BBC documentary
———————————–
In November 1969, the Iveys changed their name to Badfinger, and Paul McCartney of the Beatles gave the group a boost by offering them his song "Come and Get It", which he produced for the band. It became a featured track for the film The Magic Christian, which starred Ringo Starr and Peter Sellers. Evans was chosen by McCartney to sing lead on this track. It reached the Top 10 worldwide.
The B-side, Rock of All Ages, co-written by Evans with Pete Ham and Mike Gibbins, features Tom Evans singing lead. Paul McCartney also produced this, and even sang scratch vocals with Evans on the basic track. A third Magic Christian song, "Carry On Till Tomorrow" was co-written by Evans and Ham.
After the departure of original bassist Ron Griffiths, the band fruitlessly auditioned a replacement and with the arrival of Liverpudlian guitarist Joey Molland, Evans, who had previously played guitar, switched to bass and thus stabilizing the classic line-up of Ham, Evans, Gibbins and Molland.
Badfinger enjoyed more major successes in the early 1970s with singles such as "No Matter What," "Day After Day," and "Baby Blue". Each featured some of Evans vocals; background harmony and dual lead. Evans' high-career moment was with his composition "Without You," a song co-written with bandmate Pete Ham. The song became a No. 1 hit worldwide for Harry Nilsson and has since become a standard in the music industry.
Badfinger dissolved following Ham's suicide in 1975, after which Evans joined a group called the Dodgers with Badfinger bandmate Bob Jackson. The Dodgers released three singles produced by Muff Winwood and toured Britain before recording an album with producer Pat Moran. Evans was eventually asked to leave the band midway through the recording sessions and he briefly retired from the music industry.
Evans resurfaced in 1977 to join Joey Molland for two Badfinger "comeback" albums. The first single of two from the first album, "Airwaves" was an Evans composition "Lost Inside Your Love" but it failed to chart after its release in March 1979. The second album, "Say No More" spawned the Evans and Tansin single "Hold On," which reached No. 56 on Billboard in 1981. Evans and Molland went their separate ways after this second album was released, and the two put together rival "Badfinger" touring bands in the US
In 1982, Jackson rejoined Evans in the latter's version of Badfinger. Original Badfinger drummer Mike Gibbins was also enlisted for Evans' band for one tour. But after Evans and Jackson signed separate management contracts with a Milwaukee businessman, the trio of Evans, Gibbins and Jackson said they found themselves stranded in the US without tour dates, food, money and much duress from physical threats. After returning to Britain, Evans was sued for $5 million in damages for abandoning his touring contract.

During the evening of 18 November 1983, Evans argued with Joey Molland of Badfinger on the telephone, chiefly regarding potential publishing/ASCAP divisions of the song "Without You". ASCAP royalties accumulating for airplay of the song had been funding Evans, with other potential publishing funds being held by Apple Corps Ltd. pending resolution of debate between the group members and manager Bill Collins. Early the following morning, 19 November, Evans was found dead by suicide, his body hanging in his back garden from a willow tree.
Allegedly, he left no note, but family and friends have speculated that he was overwhelmed by the combination of his conflicts with Molland, ex-manager Bill Collins, and ex-bandmate Mike Gibbins over the pending royalties, plus the US lawsuit which he felt threatened his livelihood further. But a factor in Evans' depression, alluded to by many friends and family members, may have been that he was never able to fully recover from his former bandmate Pete Ham's suicide.
Marianne Evans, his wife, was quoted in a documentary as having stated that
"Tommy said 'I want to be where Pete is. It's a better place than down here' …."
Evans is also survived by a son, Stephen.
In 1993, a CD of recordings made in the early 1980s by Evans and musician friend Rod Roach was posthumously released in the UK on Gipsy Records under the title Over You (The Final Tracks).
See here for more information on Tom Evans
—————————-
Vince Welnick (February 21, 1951 – June 2, 2006) was an American keyboardist, best known for playing with the band the Tubesduring the 1970s and 1980s and with the Grateful Dead in the 1990s.
Music career
Born in Phoenix, Arizona, as the great grandson of Prussian immigrants, Welnick started playing keyboards as a teenager. He joined a band, the Beans, which eventually morphed into the Tubes, a San Francisco-based theater rock band popular in the late 1970s and early 1980s and noted for early live performances that combined lewd quasi-pornography with wild satires of media, consumerism and politics.
The Tubes in the 1980s were a major commercial rock act with substantial MTV success. Videos for rock classics "Talk To Ya Later" and "She's A Beauty" played in heavy rotation on the MTV network for years in the mid-1980s. While playing in the Tubes, he also played and recorded with Todd Rundgren.
When the Grateful Dead's keyboardist, Brent Mydland, died of a drug overdose on July 26, 1990, the band began auditioning players to replace him, including Ian McLagan, Pete Sears and T Lavitz. Welnick was selected, not least for his high vocal range for backup harmonies. His AP obituary mentioned he was so nervous at his first gig with the band in 1990 in Cleveland that he could barely play, until the fans put him at ease.
They held up banners reading, "Yo Vinnie," which Welnick later decided to use as the name of his BMI-affiiated publishing company, Yo Vinnie Music, once obtaining his writer and publisher rights back from Ice Nine Publishing, which had copyrighted his works without an agreement in place to do so shortly after Vince joined the Grateful Dead. Bruce Hornsby also supplemented Welnick on grand piano for over 100 shows in Welnick's first years in the Dead. Welnick remained as a member of the Grateful Dead and the band's keyboard player until Jerry Garcia's death in August 1995, when the group disbanded.
In 1994, he was inducted into the Rock and Roll Hall of Fame as a member of the Grateful Dead.
Vince became very depressed following a diagnosis of cancer and emphysema shortly before the final Grateful Dead tour. Without any publicity about his illness, he decided to do the summer 1995 Grateful Dead tour, and wait to have surgery after it ended. Shortly after the tour was over, Jerry Garcia died. Welnick joined Bob Weir's new group Ratdog as the keyboard player, touring with them around the USA.
He attempted suicide about six months after Garcia's death on the Rat Dog tour bus on the drive to Monterey, California. Following intense therapy, successful treatment of his cancer, and management of the early stages of his lung disease, he became involved in solo efforts, including Second Sightwith Bob Bralove and Missing Man Formation, which released a critically acclaimed single album on Grateful Dead Records which included "Golden Days", a tribute to Jerry Garcia. He was a key member of the second ever Phil Lesh and Friends show in March 1998, and toured the USA with the Mickey Hart Band later that year.
On June 2, 2006, Vince Welnick committed suicide by cutting his own throat, after battling depression for 10 years.
An ambulance was summoned at 9:30 a.m. by the Sonoma County sheriff's dispatcher. Welnick was still alive when it arrived. An hour later, he was pronounced dead at the emergency room of Santa Rosa Memorial Hospital, according to the Sonoma County coroner's office.
Former Grateful Dead keyboardist Tom Constanten played keyboards for the "Vince Welnick and Friends Tour" that was scheduled before his death. They played many Vince Welnick staples including "Samba in the Rain". "He Was a Friend of Mine" was also played in honor of Welnick. On the second night of the tour they stopped in St. Louis and the opener the Schwag, who Welnick had played with before, did "Turn on Your Love Light" and dedicated it to Welnick with some improvised lyrics about Welnick and his life.
See here for more information on Vince Welnick
—————————————-
Interview with Vince Welnick
---
Wendy Orlean Williams (May 28, 1949 – April 6, 1998), better known as Wendy O. Williams, was an American singer, songwriter and actress. Born in Webster, New York, she first came to prominence as the lead singer of the punk rock band Plasmatics. Her infamous stage theatrics included blowing up equipment, near nudity and chain-sawing guitars.
After she left home at the age of 16, Williams hitchhiked her way to Colorado, earning money by crocheting string bikinis. She later traveled to Florida and Europe landing various jobs such as lifeguard, stripper and server at Dunkin' Donuts. When she arrived in New York City in 1976, she began performing in live sex shows and later appeared in the adult film, Candy Goes to Hollywood (1979). That same year, she was approached by the manager Rod Swenson, who recruited her to join his newly formed punk rock band, Plasmatics. The band shortly became known on the New York City underground scene, performing at clubs such as CBGB.
After releasing three albums with Plasmatics, Williams embarked on a solo career and in 1984 released her debut album, WOW. She followed with the albums Kommander of Kaos (1986) and Deffest! and Baddest! (1988), before she retired from the music industry. Williams made her screen debut in Tom DeSimone's film Reform School Girls (1986), for which she recorded the title song. She also appeared in the 1989 comedy Pucker Up and Bark Like a Dog, and television series The New Adventures of Beans Baxter andMacGyver. On April 6, 1998, Williams committed suicide near her home in Storrs, Connecticut.
Dubbed "The Queen of Shock Rock," Williams was widely considered the most controversial and radical female singer of her day. She often sported a Mohawk haircut. In 1985, she was nominated for a Grammy in the Best Female Rock Vocal Performancecategory during the height of her popularity as a solo artist.
Williams first attempted suicide in 1993 by hammering a knife into her chest where it lodged in her sternum. However, she changed her mind and called Swenson to take her to the hospital.
She attempted suicide again in 1997 with an overdose of ephedrine.
Williams died of a self-inflicted gunshot wound on April 6, 1998, when she was 48. Rod Swenson, her significant other for more than 20 years, returned to their home in the area where they had lived since moving to Connecticut from New York. He found a package that she left him with some special noodles he liked, a packet of seeds for growing garden greens, some oriental massage balm and sealed letters from her.
The suicide letters which included a "living will" denying life support, a love letter to Swenson and various lists of things to do which caused Swenson to begin searching the woods for her. After about an hour, as dusk began, he found her body in a wooded area where she would often feed the wildlife. Several nut shells were on a nearby rock where she had apparently been feeding some of the squirrels before she died. Swenson checked the body for a pulse, but found none. A pistol lay on the ground nearby, and he returned to the house to call the local authorities. "Wendy's act was not an irrational in-the-moment act," he said; for four years she had contemplated suicide. Swenson reportedly described her as "despondent" at the time of her death.
This is what she is said to have written in a suicide noteregarding her decision:
I don't believe that people should take their own lives without deep and thoughtful reflection over a considerable period of time. I do believe strongly, however, that the right to do so is one of the most fundamental rights that anyone in a free society should have. For me, much of the world makes no sense, but my feelings about what I am doing ring loud and clear to an inner ear and a place where there is no self, only calm.
Gene Simmons, Joey Ramone, and many others issued statements at the time of her death. On Motörhead's 1999 live album Everything Louder Than Everyone Else, before the song "No Class", Motörhead vocalist Lemmy said that he wanted to dedicate this song officially to her.
A memorial was held at CBGB on May 18.
Several of Wendy's former Plasmatics co-members (Chosei Funahara, Richie Stotts, Wes Beech, Stu Deutsch, Jean Beauvoir and TC Tolliver) played a six-song set with four of them handling the vocals
See here for more information on Wendy O. Williams
——————————————
The Plasmatics " Butcher Baby "
---
Help

Contact Mind
We're here for you.
If you have a general query about the organisation, our contact details are:
Mind
15-19 Broadway, Stratford, London E15 4BQ
T: 020 8519 2122, F: 020 8522 1725
e: contact@mind.org.uk
Mind Cymru
3rd Floor, Quebec House, Castlebridge,
5-19 Cowbridge Road East,
Cardiff CF11 9AB
T: 029 2039 5123
If there's something troubling you, then get in touch.
We're here 24 hours a day, 365 days a year. If you need a response immediately, it's best to call us on the phone. This number is FREE to call.