Key Events & Deaths on this day in Northern Ireland Troubles
11th March
—————————————————
Tuesday 11 March 1969
The Parliamentary Commissioner Bill was introduced which would allow for the appointment of an Ombudsman to investigate complaints against Stormont government departments.
Friday 11 March 1977
Twenty-six members of the UVF were sentenced in a Belfast court to a total of 700 years in prison.
[The imprisonment of so many members of the UVF is believed to have helped curtailed paramilitary activities by this group.]
Tuesday 11 March 1980
The body of Thomas Niedermayer, a West German industrialist who had disappeared in December 1973, was found at Colinglen Road, West Belfast.
Friday 11 March 1983
The Irish government announced that it was establishing a forum which became known as the New Ireland Forum. The Forum was proposed by the Social Democratic and Labour Party (SDLP).
[Many commentators considered the Forum to be a response to the perceived threat that was presented by Sinn Féin (SF) to the electoral position of the SDLP as the main Nationalist party in Northern Ireland. All the constitutional Nationalist parties in Ireland, with the exception of SF, were invited to attend the Forum. The first meeting of the Forum took place on 30 May 1983 and the final report was published on 2 May 1984.]
James Prior, then Secretary of State for Northern Ireland, said that the British government would not co-operate with the inquiry on the conflict that had been set up by the Political Committee of the European Parliament. The Rapporteur was Mr N.J. Haagerup.
[The report was drawn up and passed by the European Parliament on 29 March 1984.]
Tuesday 11 March 1986
The Royal Ulster Constabulary (RUC) arrested three Democratic Unionist Party (DUP) Assembly Members when they tried to enter Stormont Castle where the Anglo-Irish Intergovernmental Conference was in session.
[The DUP members were attempting to cut through a wire fence when they were arrested.]
The House of Representatives in the United States of America (USA) unanimously voted to approve a $250 million aid package, over a five year period, to Northern Ireland to support the Anglo-Irish Agreement (AIA).
Wednesday 11 March 1987
Garret FitzGerald resigned as leader of Fine Gael (FG). He was replaced on 21 March 1987 by Alan Dukes.
Friday 11 March 1988
Andy Tyrie, then chairman of the Ulster Defense Association (UDA), resigned his post after losing a vote of confidence. A bomb had been planted under his car several days earlier and it was widely assumed to have been planted by Loyalists.
Wednesday 11 March 1992
John Major, then British Prime Minister, announced that there would be a general election on 9 April 1992.
Friday 11 March 1994
Second IRA Mortar Attack on Heathrow
Francis Brown (38), a Catholic civilian, was killed by a bomb planted by the Ulster Volunteer Force (UVF) in Portadown, County Armagh.
In a second attack on Heathrow Airport the Irish Republican Army (IRA) launched four mortars over the perimeter fence. None of the mortars exploded. A Royal Air Force plane with the Queen on board landed at the airport while the security forces were conducting a search of the terminal.
[There had been a previous attack on 9 March 1994. The mortars were fired from a wooded area close to the perimeter fence. The police carried out a further search of wooded areas but discovered no further mortars. However, there was another attack on the airport on 13 March 1994.]
Monday 11 March 1996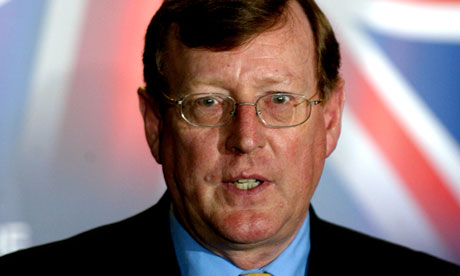 David Trimble, then leader of the Ulster Unionist Party (UUP), met with the leaders of the Irish Coalition Government in Dublin
Thursday 11 March 1999
See Lee Clegg
Lee Clegg, then a soldier in the Parachute Regiment, was cleared in a Belfast court of murdering teenager Karen Reilly during an incident involving a stolen car in west Belfast on 30 September 1990. Justice Kerr ruled that it was not certain that Clegg had fired the fatal shot. The judge upheld Clegg's conviction for attempting to wound Martin Peake with intent. The judge described Clegg's version of events as "untruthful and incapable of belief".
[Clegg had been released from prison in 1995.]
Monday 11 March 2002
There was further reaction to a speech made by David Trimble, then leader of the Ulster Unionist Party (UUP), on Saturday 9 March 2002.
Trimble said that he stood by his description of the Republic of Ireland as "pathetic, sectarian State", and he accused nationalists of over-reacting.
Martin McGuinness, then Vice-President of Sinn Féin (SF), described Trimble as "a twit" and said it was not the behaviour expected of a Nobel Peace Prize winner.
Walton Empey (Dr), then Archbishop of Dublin, said Trimble's comments were totally uncalled for.
Ruairí Quinn, then Labour leader, said the comments were ill-considered and ill-informed.
The Garda Síochána (the Irish police) arrested Martin Ferris, then Sinn Féin (SF) candidate for Kerry North, Republic of Ireland, and questioned him about an alleged vigilante abduction in early December 2001.
A total of six SF members had been questioned about the incident. George Bush, then President of the United States of America (USA), decreed March as Irish-American Heritage Month with a proclamation that paid tribute to the role of the Irish in the history of the US.
—————————————————————————
Remembering all innocent victims of the Troubles
Today is the anniversary of the death of the following people killed as a results of the conflict in Northern Ireland
"To live in hearts we leave behind is not to die
– Thomas Campbell
To the innocent on the list – Your memory will live forever
– To the Paramilitaries –
There are many things worth living for, a few things worth dying for, but nothing worth killing for.
6 People lost their lives on the 11th March between 1974 – 1994
—————————————————————————
11 March 1974

George Keating, (47)
Catholic
Status: Civilian (Civ),
Killed by: Ulster Volunteer Force (UVF)
Shot during gun attack on Bunch of Grapes Bar, Garmoyle Street, Belfast.
—————————————————————————
11 March 1976
Harry Scott, (64)
Protestant
Status: Civilian (Civ),
Killed by: Irish Republican Army (IRA)
Shot at the entrance to Farmer's Inn, Collin Glen Road, Collin, Belfast
—————————————————————————
11 March 1982

Norman Hanna, (28)
Protestant
Status: ex-Ulster Defence Regiment (xUDR),
Killed by: Irish Republican Army (IRA)
Shot outside his workplace, Department of the Environment office, Rathfriland Road, Newry, County Down
—————————————————————————
11 March 1983

Eamon Kerr, (33)
Catholic
Status: Civilian Political Activist (CivPA),
Killed by: not known (nk)
Workers' Party (WP) member. Shot at his home, Cape Street, Lower Falls, Belfast.
—————————————————————————
11 March 1990
Eamon Quinn, (32)
Catholic
Status: Civilian (Civ),
Killed by: Ulster Freedom Fighters (UFF)
Shot while working on his car outside his home, Kashmir Road, Falls, Belfast.
—————————————————————————
11 March 1994

Francis Brown, (38)
Catholic
Status: Civilian (Civ),
Killed by: Ulster Volunteer Force (UVF)
Killed by booby trap bomb, hidden in concrete block under his parked lorry, Obins Street, Portadown, County Armagh.
—————————————————————————