The Saint Valentine's Day Massacre 14th Feb 1929
The Saint Valentine's Day Massacre was the 1929 Valentine's Day murder of seven members and associates of Chicago's North Side Gang. The men were gathered at a Lincoln Park garage on the morning of Valentine's Day. They were lined up against a wall and shot by four unknown assailants who were dressed like police officers. The incident resulted from the struggle to control organized crime in the city during Prohibition between the Irish North Siders, headed by George "Bugs" Moran, and their Italian South Side rivals led by Al Capone.
The perpetrators have never been conclusively identified, but former members of the Egan's Rats gang working for Capone are suspected of a significant role, as are members of the Chicago Police Department who allegedly wanted revenge for the killing of a police officer's son.
The Massacre
Saint Valentine's Day Massacre – Al Capone, George 'Bugs' Moran and the Irish North Side Gang
At 10:30 a.m. on Thursday, February 14, 1929, seven men were murdered at the garage at 2122 North Clark Street,  in the Lincoln Park neighborhood of Chicago's North Side. They were shot by four men using weapons that included two Thompson submachine guns. Two of the shooters were dressed as uniformed policemen, while the others wore suits, ties, overcoats, and hats. Witnesses saw the fake police leading the other men at gunpoint out of the garage after the shooting.
The victims included five members of George "Bugs" Moran's North Side Gang. Moran's second in command and brother-in-law Albert Kachellek (alias James Clark) was killed along with Adam Heyer, the gang's bookkeeper and business manager, Albert Weinshank, who managed several cleaning and dyeing operations for Moran, and gang enforcers Frank Gusenberg and Peter Gusenberg.
Two collaborators were also shot: Reinhardt H. Schwimmer, a former optician turned gambler and gang associate, and John May, an occasional mechanic for the Moran gang. Real Chicago police officers arrived at the scene to find that victim Frank Gusenberg was still alive. He was taken to the hospital, where doctors stabilized him for a short time and police tried to question him. He had sustained 14 bullet wounds; the police asked him who did it, and he replied, "No one shot me." He died three hours later.
Al Capone was widely assumed to have been responsible for ordering the 1929 Saint Valentine's Day Massacre in an attempt to eliminate Bugs Moran, head of the North Side Gang. Moran was the last survivor of the North Side gunmen; his succession had come about because his similarly aggressive predecessors Vincent Drucci and Hymie Weiss had been killed in the violence that followed the murder of original leader Dean O'Banion.
Al Capone was widely assumed to have been responsible for ordering the 1929 Saint Valentine's Day Massacre in an attempt to eliminate Bugs Moran, head of the North Side Gang. Moran was the last survivor of the North Side gunmen; his succession had come about because his similarly aggressive predecessors Vincent Drucci and Hymie Weiss had been killed in the violence that followed the murder of original leader Dean O'Banion.
Several factors contributed to the timing of the plan to kill Moran. Earlier in the year, North Sider Frank Gusenberg and his brother Peter unsuccessfully attempted to murder Jack McGurn. The North Side Gang was complicit in the murders of Pasqualino "Patsy" Lolordo and Antonio "The Scourge" Lombardo. Both had been presidents of the Unione Siciliana, the local Mafia, and close associates of Capone. Moran and Capone had been vying for control of the lucrative Chicago bootlegging trade. Moran had also been muscling in on a Capone-run dog track in the Chicago suburbs, and he had taken over several saloons that were run by Capone, insisting that they were in his territory.
The plan was to lure Moran to the SMC Cartage warehouse on North Clark Street on February 14, 1929 to kill him and perhaps two or three of his lieutenants. It is usually assumed that the North Siders were lured to the garage with the promise of a stolen, cut-rate shipment of whiskey, supplied by Detroit's Purple Gang which was associated with Capone. The Gusenberg brothers were supposed to drive two empty trucks to Detroit that day to pick up two loads of stolen Canadian whiskey. All of the victims were dressed in their best clothes, with the exception of John May, as was customary for the North Siders and other gangsters at the time.
Most of the Moran gang arrived at the warehouse by approximately 10:30 a.m. on Valentine's Day, but Moran was not there, having left his Parkway Hotel apartment late. He and fellow gang member Ted Newberry approached the rear of the warehouse from a side street when they saw a police car approaching the building. They immediately turned and retraced their steps, going to a nearby coffee shop. They encountered gang member Henry Gusenberg on the street and warned him, so also he turned back. North Side Gang member Willie Marks also spotted the police car on his way to the garage, and he ducked into a doorway and jotted down the license number before leaving the neighborhood.
Capone's lookouts likely mistook one of Moran's men for Moran himself, probably Albert Weinshank, who was the same height and build. The physical similarity between the two men was enhanced by their dress that morning; both happened to be wearing the same color overcoats and hats. Witnesses outside the garage saw a Cadillac sedan pull to a stop in front of the garage. Four men emerged and walked inside, two of them dressed in police uniform. The two fake police officers carried shotguns and entered the rear portion of the garage, where they found members of Moran's gang and collaborators Reinhart Schwimmer and John May, who was fixing one of the trucks.
The Guns of the St. Valentine's Day Massacre
The fake policemen then ordered the men to line up against the wall. They then signaled to the pair in civilian clothes who had accompanied them. Two of the killers opened fire with Thompson sub-machine guns, one with a 20-round box magazine and the other a 50-round drum. They were thorough, spraying their victims left and right, even continuing to fire after all seven had hit the floor. Two shotgun blasts afterward all but obliterated the faces of John May and James Clark, according to the coroner's report.
To give the appearance that everything was under control, the men in street clothes came out with their hands up, prodded by the two uniformed policemen. Inside the garage, the only survivors in the warehouse were May's dog "Highball" and Frank Gusenberg—despite 14 bullet wounds. He was still conscious, but he died three hours later, refusing to utter a word about the identities of the killers. The Valentine's Day Massacre set off a public outcry which posed a problem for all mob bosses.
Victims
Peter Gusenberg, a front-line enforcer for the Moran organizations
Frank Gusenberg, the brother of Peter Gusenberg and also an enforcer
Albert Kachellek (alias "James Clark"), Moran's second in command
Adam Heyer, the bookkeeper and business manager of the Moran gang
Reinhardt Schwimmer, an optician who had abandoned his practice to gamble on horse racing and associate with the gang
Albert Weinshank, who managed several cleaning and dyeing operations for Moran; his resemblance to Moran is allegedly what set the massacre in motion before Moran arrived, including the clothes that he was wearing
John May, an occasional car mechanic for the Moran gang[8]
Investigation
Within days, Capone received a summons to testify before a Chicago grand jury on charges of federal Prohibition violations, but he claimed to be too unwell to attend.
The Purple Gang
It was common knowledge that Moran was hijacking Capone's Detroit-based liquor shipments, and police focused their attention on Detroit's predominantly Jewish Purple Gang. Landladies Mrs. Doody and Mrs. Orvidson had taken in three men as roomers ten days before the massacre, and their rooming houses were directly across the street from the Clark Street garage. They picked out mug shots of Purple members George Lewis, Eddie Fletcher, Phil Keywell, and his younger brother Harry, but they later wavered in their identification. The police questioned and cleared Fletcher, Lewis, and Harry Keywell. Nevertheless, the Keywell brothers (and by extension the Purple Gang) remained ensnared in the massacre case for all time. Many also believed what the killers wanted them to believe: that the police did it.
On February 22, police were called to the scene of a garage fire on Wood Street where they found a 1927 Cadillac Sedan disassembled and partially burned, and they determined that the killers had used the car. They traced the engine number to a Michigan Avenue dealer who had sold the car to a James Morton of Los Angeles.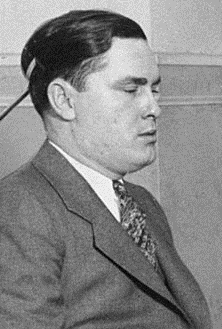 The garage had been rented by a man calling himself Frank Rogers, who gave his address as 1859 West North Avenue. This was the address of the Circus Café operated by Claude Maddox, a former St. Louis gangster with ties to the Capone gang, the Purple Gang, and a St. Louis gang called Egan's Rats. Police could not turn up any information about persons named James Morton or Frank Rogers, but they had a definite lead on one of the killers. Just minutes before the killings, a truck driver named Elmer Lewis had turned a corner a block away from 2122 North Clark and sideswiped a police car.
He told police that he stopped immediately but was waved away by the uniformed driver, who was missing a front tooth. Board of Education president H. Wallace Caldwell had witnessed the accident, and he gave the same description of the driver. Police were confident that they were describing Fred Burke, a former member of Egan's Rats. Burke and a close companion named James Ray were known to wear police uniforms whenever on a robbery spree. Burke was also a fugitive, under indictment for robbery and murder in Ohio. Police also suggested that Joseph Lolordo could have been one of the killers because of his brother Pasqualino's recent murder by the North Side Gang.
Police then announced that they suspected Capone gunmen John Scalise and Albert Anselmi, as well as Jack McGurn and Frank Rio, a Capone bodyguard. Police eventually charged McGurn and Scalise with the massacre. Capone murdered John Scalise, Anselmi, and Joseph "Hop Toad" Giunta in May 1929 after he learned about their plan to kill him. The police dropped the murder charges against Jack McGurn because of a lack of evidence, and he was just charged with a violation of the Mann Act; he took his girlfriend Louise Rolfe across state lines to marry.
The case stagnated until December 14, 1929, when the Berrien County, Michigan Sheriff's Department raided the St. Joseph, Michigan bungalow of "Frederick Dane", the registered owner of a vehicle driven by Fred "Killer" Burke. Burke had been drinking that night, then rear-ended another vehicle and drove off. Patrolman Charles Skelly pursued, finally forcing him off the road. Skelly hopped onto the running board of Burke's car, but he was shot three times and died of his wounds that night. The car was found wrecked and abandoned just outside St. Joseph and traced to Fred Dane. By this time, police photos confirmed that Dane was in fact Fred Burke, wanted by the Chicago police for his participation in the St. Valentine's Day Massacre.
Thompson submachine guns,
Police raided Burke's bungalow and found a large trunk containing a bullet-proof vest, almost $320,000 in bonds recently stolen from a Wisconsin bank, two Thompson submachine guns, pistols, two shotguns, and thousands of rounds of ammunition. St. Joseph authorities immediately notified the Chicago police, who requested both machine guns. They used the new science of forensic ballistics to identify both weapons as those used in the massacre. They also discovered that one of them had also been used to murder New York mobster Frankie Yale a year and a half earlier. Unfortunately, no further concrete evidence surfaced in the massacre case. Burke was captured over a year later on a Missouri farm. The case against him was strongest in connection to the murder of Officer Skelly, so he was tried in Michigan and subsequently sentenced to life imprisonment. He died in prison in 1940.
The Real Scarface: Al Capone (Full Documentary)
See: Wikipedia Saint Valentine's Day Massacre for more details