Key Events & Deaths on this day in Northern Ireland Troubles
10th June
——————————–
Wednesday 10 June 1981
Crumlin Road Prison Escape
Eight Irish Republican Army (IRA) prisoners on remand escaped form the Crumlin Road Prison in Belfast. The prisoners used three handguns, which had been smuggled into the prison, to hold prison officers hostage before taking their uniforms and shooting their way out of the prison.
Friday 10 June 1983
Following the election of Gerry Adams, then Vice-President of Sinn Féin (SF), as Member of Parliament (MP) for West Belfast, William Whitelaw, then British Home Secretary, lifted the ban on him entering Britain.
Friday 10 June 1988
A branch of the Conservative Party was established in Bangor, County Down. The 'Model Conservative Association' was part of an attempt to introduce British political parties into Northern Ireland.
Thursday 10 June 1993
It was confirmed that Jean Kennedy Smith, sister of the late President John F. Kennedy, would be the next American Ambassador to the Republic of Ireland.
Friday 10 June 1994
Two thousand workers from the Harland and Wolff shipyard stopped work for a period in protest at the killing at the shipyard on 9 June 1994.
Monday 10 June 1996
Stormont Talks Began
All-party negotiations (hereafter referred to as the 'Stormont talks') began in Stormont, Belfast. The talks began with opposition from the unionist parties to the extent of the role to be played by the chair George Mitchell. John Major, then British Prime Minister, and John Bruton, then Taoiseach (Irish Prime Minister), gave a joint press conference and indicated their support for George Mitchell. Sinn Féin (SF) were refused entry to the talks and the two governments issued a joint statement on the decision to exclude SF.
Tuesday 10 June 1997
The Irish Republican Army (IRA) admitted that it was responsible for a gun attack on a British Army patrol in Derry. There were no injuries during the attack.
The Ministry of Defence admitted that a batch of 90,000 plastic bullets that had been delivered to the security forces in Northern Ireland were faulty.
The bullets had a faster muzzle velocity that was publicly stipulated. From the original batch, 8,300 had been fired over the previous year.
The Garvaghy Residents Coalition in Portadown, County Armagh, sent a letter to Orangemen in Portadown asking for a "mutual apology for any hurt, offence or injustice".
Wednesday 10 June 1998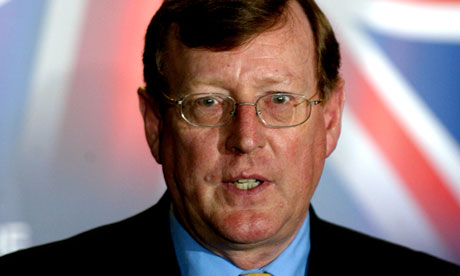 David Trimble, then leader of the Ulster Unionist Party (UUP), and nine other Unionist and Conservative Members of Parliament (MPs) voted against the Northern Ireland (Sentences) Bill during the second reading of the Bill in the House of Commons.
The proposed act was to allow for the early release of paramilitary prisoners as part of the Good Friday Agreement. In the Republic of Ireland the Industrial Development Authority (IDA) announced record breaking progress for the fourth consecutive year.
Reports showed that the IDA had helped to create 15,000 new jobs.
Thursday 10 June 1999
European Parliament Election
Elections to the European Parliament were held across the United Kingdom (UK). Northern Ireland was treated as a single constituency which returned three Members of the European Parliament (MEPs).
Turnout for the election was 57 per cent.
[When counting was completed on Monday 14 June the three standing candidates were returned. Ian Paisley, then leader of the Democratic Unionist Party (DUP), topped the poll for the fifth time, John Hume, then leader of the Social Democratic and Labour Party (SDLP), was a close second. Jim Nicholson, then Ulster Unionist Party MEP, retained his seat despite a sharp drop in party support, and a strong challenge from Mitchel McLaughlin of Sinn Féin. (See: detailed results.)
The Irish Times (a Dublin based newspaper) reported that the deputy leader of the Ulster Unionist Party (UUP), John Taylor, had threatened to resign twice in the past two weeks in a dispute over his refusal to endorse the party's candidate, Jim Nicholson, in the European Parliament election.]
Radio Telefis Éireann's (RTE) 'Prime Time' programme claimed that both Royal Ulster Constabulary (RUC) officers and Ulster Defence Regiment (UDR) soldiers were involved in a gun and bomb attack on 19 December 1975 at the Silverbridge Inn, County Armagh, in which three people were killed. At the time the attack was claimed by the Red Hand Commando (RHC
——————————————
Remembering all innocent victims of the Troubles
Today is the anniversary of the death of the following people killed as a results of the conflict in Northern Ireland
"To live in hearts we leave behind is not to die
– Thomas Campbell
To the innocent on the list – Your memory will live forever
– To the Paramilitaries –
There are many things worth living for, a few things worth dying for, but nothing worth killing for.
7 People lost their lives on the 10th June between 1972 – 1983
——————————————
10 June 1972

Martian Brown (17)
Catholic
Status: Civilian (Civ),
Killed by: non-specific Loyalist group (LOY)
Shot from passing car while standing with friends, Roden Street, off Grosvenor Road, Belfast.
——————————————
10 June 1973

Daniel O'Neill (35)
Catholic
Status: Civilian (Civ),
Killed by: non-specific Loyalist group (LOY)
Found shot on playing field, Deerpark Gardens, Oldpark, Belfast.
——————————————
10 June 1973

Samuel Rush (45)
Protestant
Status: Civilian (Civ),
Killed by: non-specific Loyalist group (LOY)
Bus driver. Shot by sniper firing at British Army (BA) Vehicle Check Point (VCP), Albertbridge Road, Belfast.
——————————————
10 June 1975

Roy Suitters (39)
Protestant
Status: Ulster Volunteer Force (UVF),
Killed by: Irish Republican Army (IRA)
Shot at his greengrocer's shop, Crumlin Road, near Ligoniel Road, Belfast
——————————————
10 June 1975
Larry White (25)
nfNIRI
Status: Saor Eire (SE),
Killed by: Official Irish Republican Army (OIRA)
From County Cork. Shot near his home, Orrey Road, Gurranabrahar, County Cork
——————————————
10 June 1978

Denis Heaney (21)
Catholic
Status: Irish Republican Army (IRA),
Killed by: British Army (BA)
Shot by undercover British Army (BA) member, while attempting to hijack a car, Harvey Street, Bogside, Derry
——————————————
10 June 1983
Geoffrey Curtis (20)
nfNI
Status: British Army (BA),
Killed by: Irish Republican Army (IRA)
Killed by remote controlled bomb, hidden in lamp post, detonated when British Army (BA) foot patrol passed, Glenalina Road, Ballymurphy, Belfast.
——————————————